Spotlight on Men Having Babies & Dr. Guy Ringler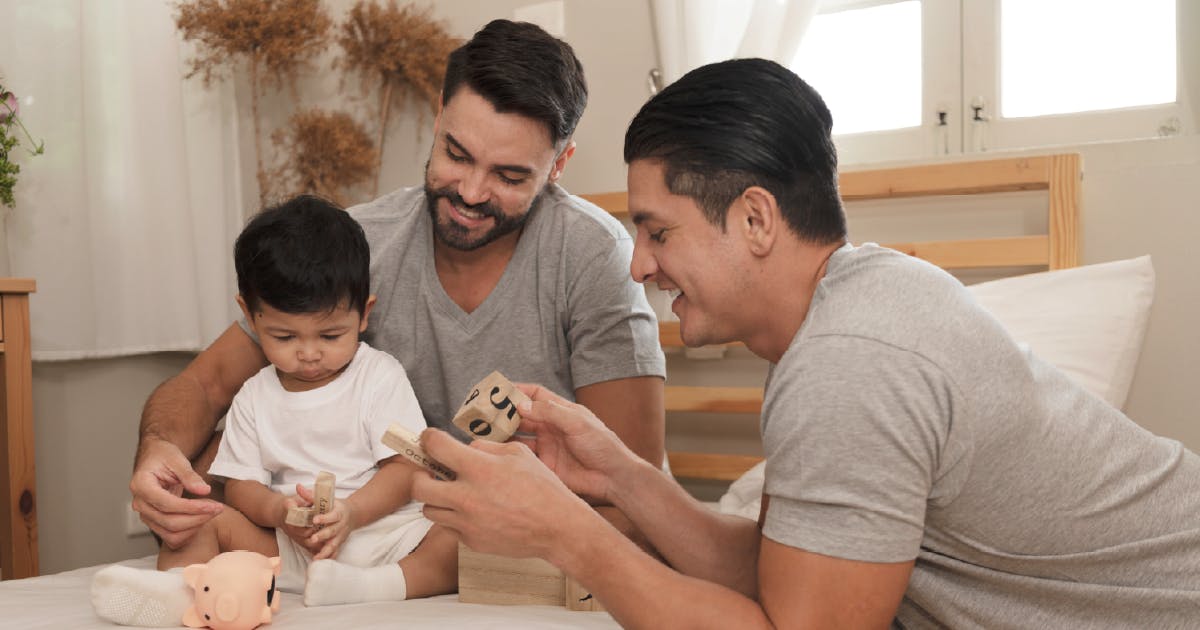 There are many ways to start a family and raise a child. And as recent decades have brought forth milestones in marriage equality and the fight for LGBTQ+ rights, the options for LGBTQ+ family building have also expanded.
According to 2019 data from the Williams Institute, almost 29% of people who identify as members of the LGBTQ+ community are raising children, up from 16.2% between 2014 - 2016. That includes a growing number of gay men who've had children through surrogacy, a process in which a woman who is not related to the child — a gestational surrogate — carries a baby who is biologically related to one of the fathers and an egg donor.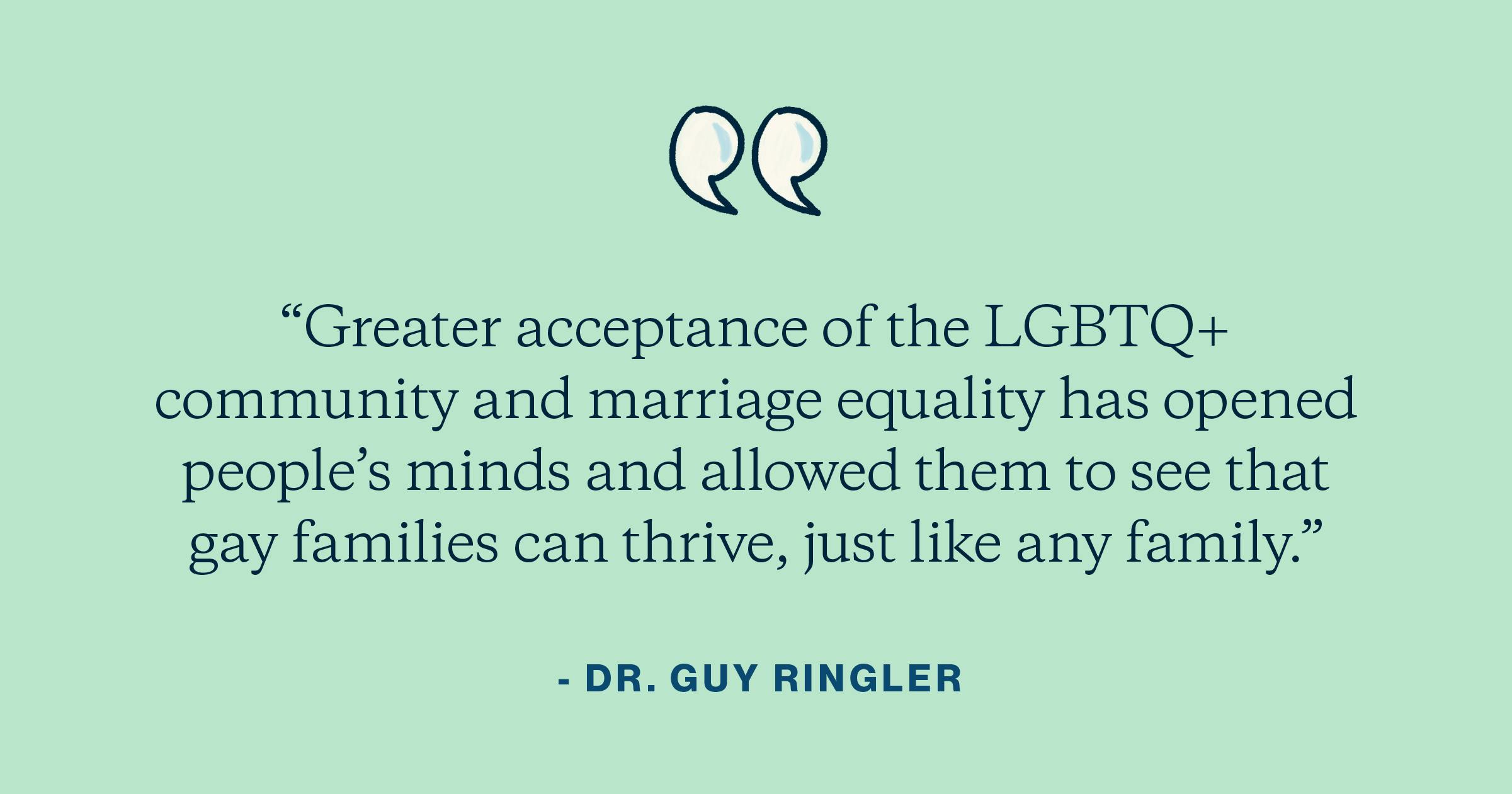 Breaking down barriers to LGBTQ+ family building
Reproductive endocrinologist Dr. Guy Ringler — a former faculty member at UCLA and an advisory board member at Men Having Babies — was one of the first doctors in the world to help gay men have children through assisted reprodutive technology. Throughout the twenty-five years that he's been in practice, he's seen how scientific advances and cultural changes have broken down barriers for gay men interested in parenthood.
"Over two decades ago, when I began my career, people barely understood the concept of surrogacy for gay men," he says. "It wasn't as easy to find women who wanted to become surrogates for gay couples. There was still fear about HIV, and there were questions about the impact of surrogacy on a child's development."
The landscape looks a lot different today. Thanks to cultural shifts and greater understanding of the science behind surrogacy — and to awareness-raising organizations like Men Having Babies — there are now more options than ever to become a parent regardless of your sexual orientation or gender identity.
"Greater acceptance of the LGBTQ+ community and marriage equality has opened people's minds and allowed them to see that gay families can thrive, just like any family," Dr. Ringler says. "Gay men are now able to plan for a future that we once didn't know was possible."
Getting to meet prospective fathers at Men Having Babies' annual conferences is one of Dr. Ringler's favorite things about working with the organization. He's observed a greater number of gay men pursuing parenthood at an earlier age.
"I'm so inspired by the next generation of gay men, who are planning their families in their twenties. That simply wasn't an option when I was their age."
Men Having Babies and financial assistance for IVF and surrogacy
There are many steps on the road to parenthood for LGBTQ+ individuals and couples: fertility treatments, legal consultation, and financial planning are all required to start a family.
"Having a baby doesn't just happen for gay men," Dr. Ringler says. "It takes thoughtful planning and there are many decisions along the way."
That's why support from organizations like Men Having Babies is so critical. The organization started as a program at The Center (formerly the NYC LGBT Center) in 2005 and officially became a nonprofit in 2012. Today, Men Having Babies supports thousands of gay men and couples around the world in starting their families through surrogacy, with monthly workshops, annual conferences and financial resources. 
Determining how to pay for IVF and surrogacy is an important part of planning your family. As part of the process, Dr. Ringler suggests mapping out a vision for your family. Knowing how many children you want can help you prepare for the cost: "When you're making the commitment to start a family as a gay man, think about how you will financially support the decision. It may feel overwhelming, but it's similar to the process of buying a house. If it's really important to you, you can find a way to make it work."
There are many resources to help alleviate the cost, including Men Having Babies' Gay Parenting Assistance Program (GPAP) . The program offers different forms of financial support, including:
Discounted and free services donated by more than one hundred leading IVF, surrogacy, egg donation, and legal service providers to prospective parents (Stage I support)
Discounted and donated ancillary services, including fertility medication, escrow services, and insurance resource services (Stage I support)
Cash grants for approved prospective parents based on income eligibility (Stage II support)
Learn more about the criteria for applying to Stage I or Stage II support from the GPAP.
You must be a member of Men Having Babies to receive financial assistance. You can become a member by making an annual donation of $150 or more. Learn more about the membership process.
In addition, EMD Serono offers financial assistance for fertility medications and Family Equality has a list of family-building grants that help LGBTQ+ families afford fertility treatment. Be sure to also ask your fertility clinic or pharmacy about available financial assistance programs and payment plans.
The importance of researching your options
As Dr. Ringler emphasized, gay men building a family through IVF and surrogacy have many decisions to make throughout the process. For that reason, it's important to thoroughly research your options and to work with a medical team that you trust. Here are some additional considerations to be mindful of as you plan your family.
Understanding the process of IVF and surrogacy
In IVF, eggs and sperm are combined in a laboratory. When gay men conceive through IVF, the sperm will come from one of the fathers and the eggs will come from a donor. Then the fertilized eggs, or embryos, are placed into the uterus of a gestational carrier who will carry the baby to term.
Not only is this an exciting time for expectant dads, as Dr. Ringler notes, but surrogates can play a big role in raising awareness of LGBTQ+ families.
"In my experience, surrogates who are asked when their baby is due while out in public may feel comfortable sharing that they're having a baby for a gay couple. This helps open up more people's minds to the possibilities for LGBTQ+ parenthood."
Understanding your goals for your relationship with your surrogate is one of many key decisions, and there is a spectrum of options. Some couples cultivate intimate relationships with the surrogates while others prefer to remain more detached. There's no one right choice — it's all about understanding what's best for you.
"If your surrogate wants a little distance, that does not mean that they are any less committed to the process," Dr. Ringler says, adding that it's important to discuss your preferences in an open discussion with your surrogacy agency.
Deciding who will be biologically related to the child
Another important decision for same-sex male couples is deciding which parent will be genetically related to the child. When heterosexual couples have babies through IVF, both parents can contribute their genetic material, so that the baby is biologically related to both, even when using a gestational carrier. 
But with gay men, only one father can contribute his sperm per pregnancy, so it's important to discuss this decision with your partner if having a child as a couple. Some fathers fertilize multiple eggs so that both can have a biological connection with one of their children. Taking time to identify your family building goals will allow you and your partner to plan for the financial cost of more than one round of IVF, if you choose to pursue that option.
Keep in mind that you can establish a legal paternal relationship with your child even if you are not biologically related to them. It's critical to research your state's laws about legal parentage procedures once your baby is born. Movement Advancement Project's interactive map on parental recognition laws is a good starting point. 
Be sure to speak with an experienced LGBTQ+ family lawyer in your state before starting the IVF and surrogacy process. There are many forms of financial support to help alleviate the cost of these legal services, like Men Having Babies' Gay Parenting Assistance Program.
Choosing an anonymous or open egg donor
There's a wide selection of available egg donors, and one of the factors to consider as you choose yours is whether they will be anonymous or open. With an open donor, you can more easily answer any questions your child may have about their genetic background. However, some families prefer anonymous donors, and sometimes an anonymous donor's physical or personality traits better fit your goals. Both paths are viable options, and it all comes down to what's right for your family.
Regardless of which option you choose, Dr. Ringler notes that you should be prepared to share information with your child about how they were conceived. You can even get creative with how you share their journey: some of Dr. Ringler's patients have created story books for the whole family to read together, which helps children understand their background and feel proud of who they are.
Seeking support for your family building journey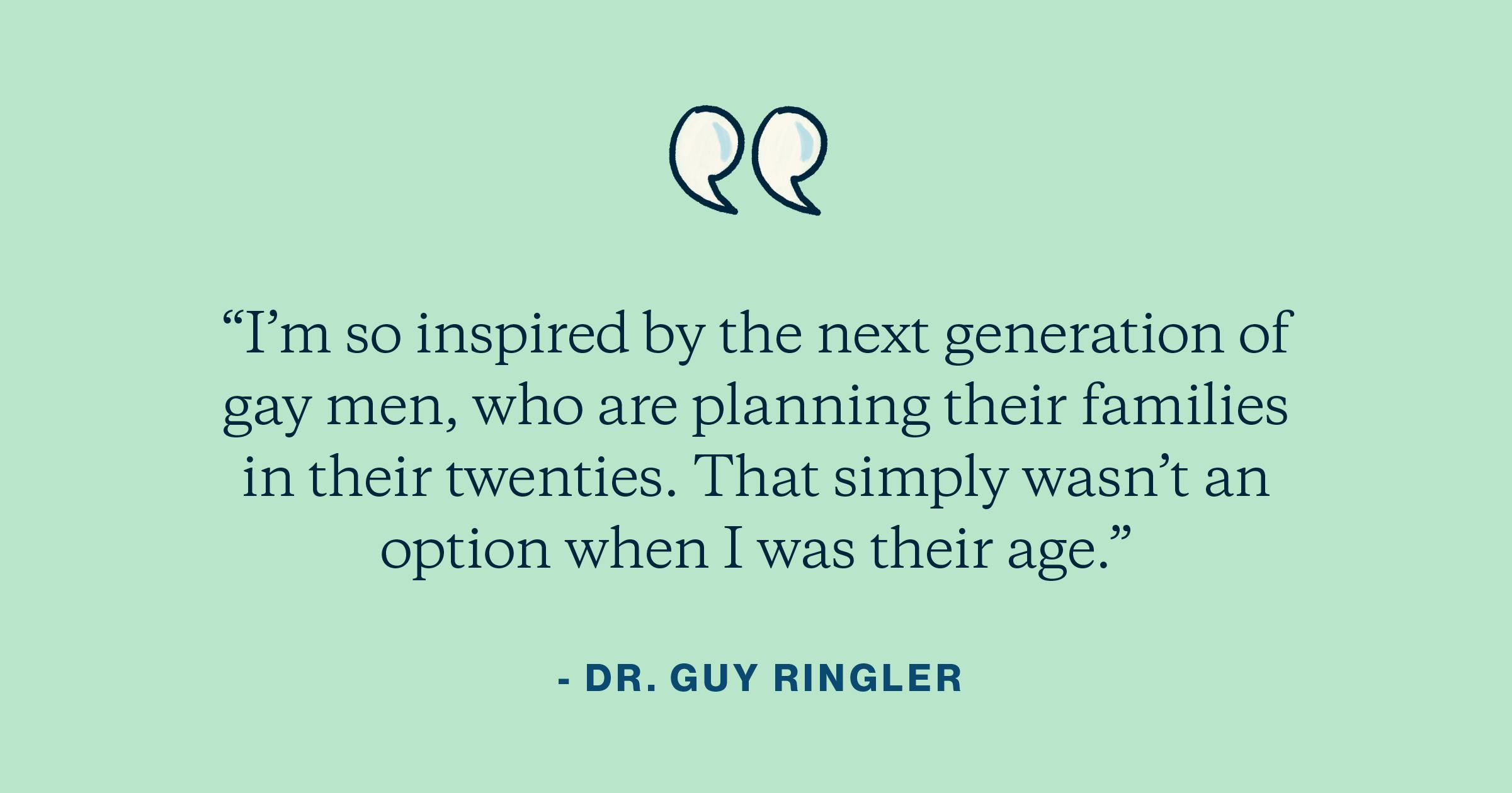 While there are many paths to take, and many decisions to make, as you build your family, all will lead to the same destination of parenthood.
"I personally had a very close relationship with my mother growing up, and as gay men, we can't guarantee our children that same experience," Dr. Ringler says. He notes that if you have an open donor, your child's biological mother may be able to have a presence in their life, which is another important factor to consider when planning your family.
But regardless of your chosen family structure, "I've seen again and again throughout my career that all you need to start a happy, healthy family is love and fun."
One thing that's certain: family building as a gay man is much easier to navigate with support from organizations like Men Having Babies. If you're feeling overwhelmed while planning for a family, remember that you don't have to go through this journey alone. Men Having Babies understands the challenges specific to building a family as a gay man, and their resources can help you fulfill your dreams of becoming a parent.
Learn how to become a member of Men Having Babies.
At Alto, we're proud to support Men Having Babies, and we're happy to be a part of your family building journey if fertility prescription medications become part of your plan. Reach out any time to get started though the Alto app or phone at 1-800-874-5881.
This content is not intended to be a substitute for professional medical advice, diagnosis, or treatment. Always seek the advice of your physician or another qualified health provider with any questions you may have regarding a medical condition.