Airbnb's Former Head of Business Technology Joins Alto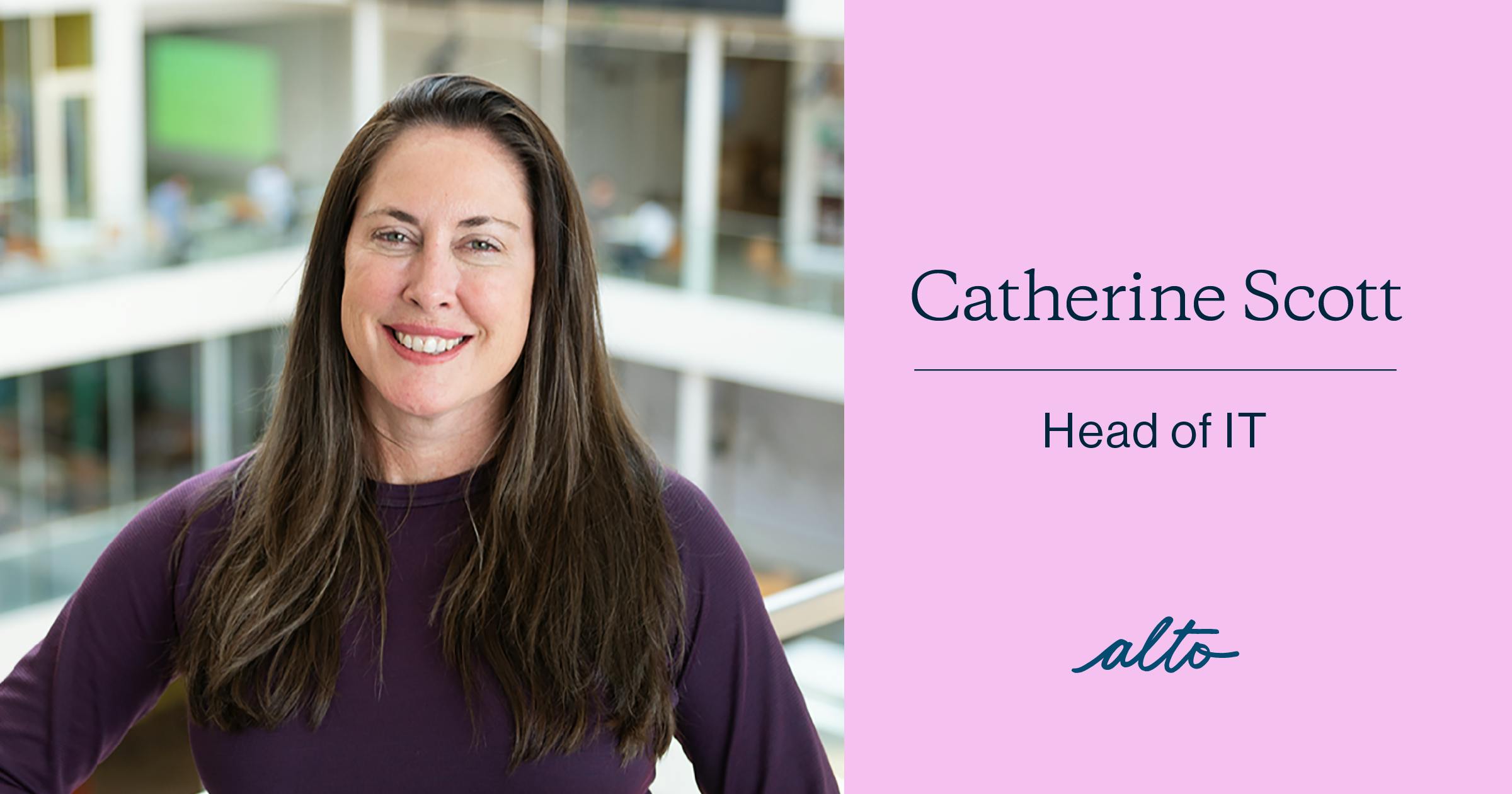 In July 2020, Catherine Scott joined Alto as Head of IT, responsible for building and leading a high performing IT team. Previously, Cat spent five years at AirBnB where she acted as the Global Head of Business Technology during their worldwide growth and was pivotal in delivering exceptional technology experiences to employees. With this expertise, and over 20 years experience spanning startups to Fortune 500 Companies, we are excited to officially call her an Altoid! 
We sat down with Scott to learn more about her plan to build Alto's IT strategy and support teams focused on End-User Support, Infrastructure & Networks and Business Applications. 
Welcome to Alto! What excites you most about recently joining the team? 
Thank you! I'll start by sharing that I am excited by companies that have a strong mission. This was an important consideration for joining Airbnb.  When contemplating what was next, I knew that this was a primary driver for my next move.  Alto's mission - to improve the quality of life for everyone - very much resonated with me. 
Aside from that, my conversations with Altoids during the hiring process reflected a sense of passion and humility that I found to be rare in a successful company. There is a culture of really intelligent, driven individuals here that are unpretentious about their accomplishments. 
Likewise, any time I evaluate an opportunity for growth, I assess the impact that I can have based on my experience. Given my background in consulting, startups, and Fortune 500 companies, I found Alto's goals to be in line with my ability to improve efficiency and help IT mature into being viewed as a critical enabler to our business.
You were the Global Head of Business Technology (Products) at Airbnb for 5 years. How did this experience shape your outlook on strategic growth and what was the most important lesson that you learned? 
When I joined Airbnb the IT organization was in its infancy. We were present in 192 countries and yet there were only six people assigned to the global team.  It was imperative to create a global strategy quickly that would both enable the hyper-growth of the company and consider how to scale in a cost effective way.
I think the key takeaway is that IT is everywhere. It's a foundational layer supporting how everything functions. Thinking about IT early in a company's lifecycle is essential, but above that you have to ensure everything is thought of from a scalable perspective. If we only build for right now there will inevitably be a technical rework later so making sure the IT services are both built for increased volume and still cost effective is important.
Can you share a little bit about your goals at Alto for the remainder of the year? 
Right now I'm very focused on what I would call core/foundational IT (network infrastructure, IT support function, etc.) -- essentially the programs that are the enablers for everyone. I'm also working closely with Alto's Director of Security to ensure that we continue to protect our patients' data with the utmost level of reliability. 
Next year I'd love to start addressing  how IT can enable more business return on investment. For example, managing and implementing 3rd party applications. Typically, and this was the same at Airbnb, if everyone is going off and buying different, potentially duplicative, applications, we start to leave money on the table and can have disjointed data and compromise security. This is where IT starts to become a case for ROI and business benefit. 
I'll actually contend that Alto is a forward thinking in recognizing the importance of IT. Because of this, I know I'll be able to create positive benefits because we'll be in front of the curve. At the end of the day, if we can grow in a thoughtful manner, we'll arrive at a place where we'll have a really high performing IT organization that contributes to the bottom line. 
How are you feeling two months in? 
You know, my motto is to "embrace the adventure." I love spending time outdoors, whether hiking, skiing, or sailing, so it really resonates in my professional life as well. I feel excited about developing an IT strategy that will ensure high quality services both in our sites and remotely, protect our internal data, maximize productivity of our workforce, and ultimately contribute to the company mission of improving the quality of life for everyone.
The good news is, having done this before, I don't think there's anything that's a surprise yet. During the interview process, I knew that this role would require another ground-up build and that it would require a strategic and thoughtful leader. Having said that, the results are always less about me and more about what the team has been able to do and how we have contributed to Alto's success.
On that note, how would your prior teams describe you? 
I think, or hope, my team would say that I'm incredibly supportive in removing anything that is keeping them from being able to achieve maximum impact or create maximum value for the company. I define myself as authentic, trustworthy and driven -- and value those qualities in others. I definitely have a high bar for excellence and want my team to be successful at performing but at the same time, I'm also there to help when needed and support their professional development. 
Stylistically I've always been a leader where I kind of exist to support others and provide thought leadership. You are nothing without your team. To quote Steve Jobs, "It doesn't make sense to hire smart people and tell them what to do; we hire smart people so they can tell us what to do." This philosophy is one that has always resonated with me. 
How do you feel about technology changing our work culture given the current climate of COVID-19? 
Alto is the first job where I joined having never met a single team member in person. It's definitely changed things up but I'm pretty comfortable with it at this point. Looking forward though, I think it's important to consider how we can recreate the "magic" that happens in person when a number of our workforce is remote. 
COVID highlighted the significance of innovative IT related to remote work and collaboration that is essential for everyone. That area of creativity is where I think IT will fundamentally shift how we continue to work and communicate with one another in what may be an increasingly remote workforce.
Are you working on any passion projects outside of Alto at the moment? 
Yes! I'm very passionate about animals and am currently looking to rescue another dog. Aside from that, I'm recently new to the Tahoe, CA, area so hope to become more embedded in community volunteering. 
My other personal passion project is actually an overhaul remodel on our Tahoe house which has required a fair amount of architecture and engineering for my husband and myself. It's a fun project that keeps us constantly engaged with one another. 
What would you say to someone interested in joining the Alto team, specifically in a technology driven role? 
Just do it, it's an amazing opportunity! I believe so strongly in what Alto is doing. If you ever have an opportunity to work for a company that is founder-led you should make it happen. There is a palpable passion that resonates throughout a company when the founders are present. It's an experience worth doing because it creates a belief and excitement around the company that might not happen otherwise. 
For more information on Scott, or to connect with her directly, reach out via LinkedIn. If you have any questions about Alto, or are interested in joining our team, please visit alto.com/careers.