3 Alto Pharmacy Resources to Ease Your Fertility Journey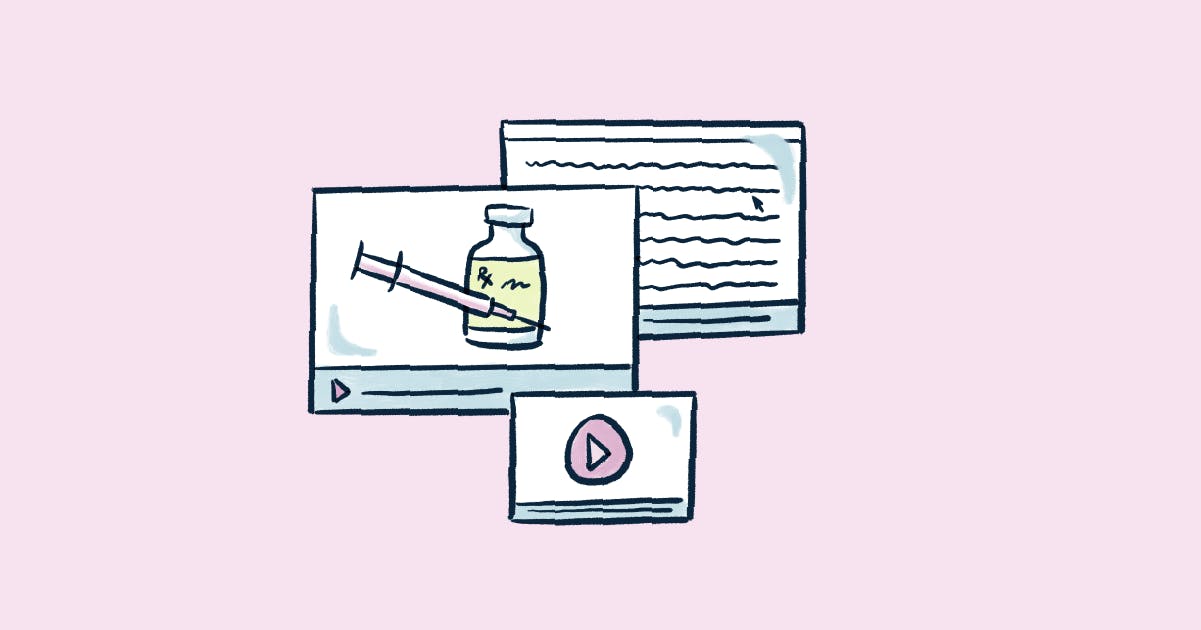 Undergoing fertility treatment is an intense and deeply personal experience. A great fertility pharmacy partner understands this and goes the extra mile to put your care first.
Reliability and convenience should be non-negotiable in a pharmacy partner during IVF and egg freezing, processes that involve quick-moving and often rapidly changing protocols of fertility medications. But at Alto, that's only the beginning. We believe that an exceptional fertility pharmacy doesn't just deliver your fertility medications and necessary ancillary supplies on time — it becomes a partner in your journey.
With more than 50,000 fertility patients served, we understand the complexities of your fertility treatment. That's why we offer a variety of resources to ensure you're never alone in navigating your fertility medications.
1. Personalized fertility medication injection guides
It's normal to be nervous about administering your first injections, but we're here to walk you through them. In our injection guide videos, experienced pharmacists from Alto's clinical fertility team share all the information you need to feel confident and ready, from unboxing your medications and preparing the syringe, to correctly injecting the medication and disposing or storing it safely. They also cover potential side effects and tips for preparing in advance.
And you won't have to sift through years of outdated videos on YouTube to find the correct one for your medication: as an Alto customer, you'll find your own unique playlist with videos for your specific fertility medications in the app. Some medications have different administration methods, including subcutaneous and intramuscular injections. We developed different injection guides for each administration method so you have all the relevant videos for your fertility medication protocol right at your fingertips.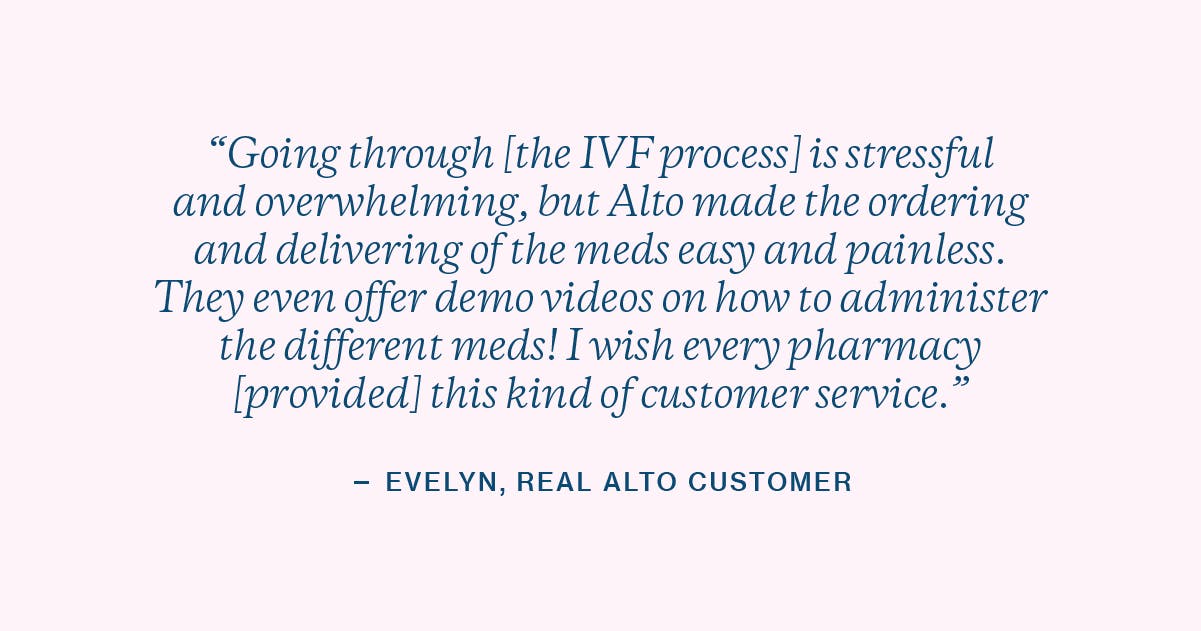 2. One-on-one consultations with fertility-trained pharmacists
When questions arise during fertility treatment, there's no substitute for one-on-one time with a fertility pharmacist. But at traditional pharmacies, it's far too difficult to get a pharmacist's undivided attention.
That's not the case at Alto. Whether you're wondering where to store medications while traveling or how to alleviate pain after an injection — actual questions Alto customers have asked our pharmacists — you'll have direct access to a fertility-trained pharmacist who's familiar with your medication protocol seven days a week.
Our pharmacists are available until 9 pm PST on weeknights and 6 pm PST on weekends. Since most fertility medications are administered as nightly injections, our extended hours mean you'll interact with an actual person, not an automated recording, when it matters most. The best part? There's no time limit. We'll wait on the phone while you watch all of the video guides for your nightly injections and walk you through each one if it helps put your mind at ease.
We know that life doesn't stop during fertility treatment, and sometimes you just need a quick yes or no right away. If a call isn't convenient, you can ask as many questions as you need to via text or secure message in our app. Whichever communication method you use, you'll still have a direct line to a fertility-trained pharmacist focused on your individual needs.
3. Expert advice at every stage
Exploring fertility treatment may feel like navigating unfamiliar territory at first. There's so much new information to take in, from fertility medications and their sequence in an IVF or egg freezing cycle, to the jargon and acronyms you'll often hear. We have an extensive library of fertility-focused content to help you deepen your understanding of fertility treatments and find useful information to make the best decisions for your needs.
Here are just a few of the resources we offer:
IVF and Egg Freezing: What to Expect and How to Prepare
A Guide to LGBTQ+ Family Building
Managing the Costs of Fertility Treatment
Choose a fertility pharmacy you can rely on
Too often, managing fertility medications only adds to the stress of fertility treatment, with hours spent waiting on hold to track down a medication delivery or navigate insurance benefits.
Choosing a reliable pharmacy partner can minimize stress during IVF, egg freezing, and other fertility treatments. Since 2016, we've supported more than 50,000 patients through their fertility journeys. As an Alto customer, you'll never have to worry about whether medications will arrive on time — and you'll have a supportive pharmacist by your side at every step of the way.
Learn more at alto.com/fertility or reach out at any time via phone at 1-800-874-5881 or in-app messaging.
This content is not intended to be a substitute for professional medical advice, diagnosis, or treatment. Always seek the advice of your physician or another qualified health provider with any questions you may have regarding a medical condition.