Introducing Alto's New CEO - Alicia Boler Davis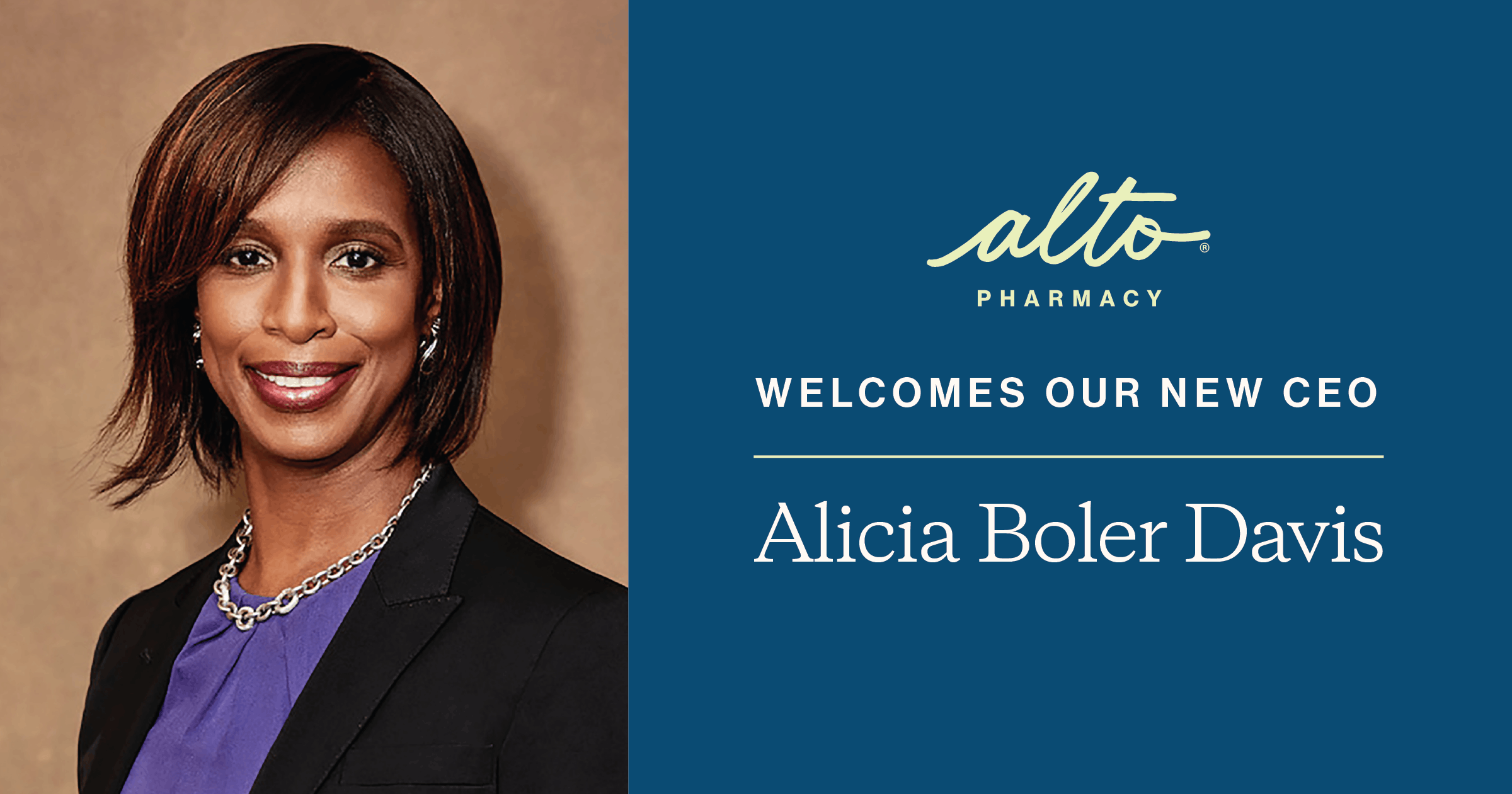 We're excited to share that Alicia Boler Davis will be Alto's next CEO. She will start on September 1, 2022.
This is a big moment for Alto, so we wanted to share how we got here.
Alto has come a long way since we started out in 2015 by acquiring AG Pharmacy in San Francisco. Those first few months revealed just how much opportunity there was to build a better pharmacy experience for patients by rebuilding the entire end-to-end technology stack, combining it with a more efficient operational process, and backing it all with a talented and caring team. And with that insight we started forging ahead with bright eyes and relentless optimism toward our ultimate mission: fulfill medicine's true purpose - to improve quality of life - for everyone who needs it.
Like any transformational startup, the journey has not been without its challenges. We've been consistently humbled by the complexity of the pharmacy industry and the challenges inherent in transforming how it works. Yet we've also been consistently amazed by how much opportunity there really is to make a meaningful difference in the lives of patients, and how receptive people are to a better solution. And through persistence and grit, combined with an increasingly talented and diverse team, we have overcome all the challenges that we have faced so far. We have served over 300,000 patients, with a 90 Net Promoter Score, are unit profitable, and are expected to pass $1 billion in annualized revenue in the next few months. We're making faster progress than at any point in the company's history. 
So if things are going so well, why are we hiring a new CEO? The opportunity ahead of us is huge, and along with that the challenges are getting more complex. Despite how far we've come, we are still only 0.2% of the total pharmacy industry market share. Capturing this massive opportunity will require leveling up our already world-class team with an even greater level of bold, rigorous, caring, experienced leadership.
As we got to know Alicia over the past few months, we realized that we had found the perfect partner to lead us through the next phase of Alto's growth. Alicia was most recently the SVP of Global Customer Fulfillment at Amazon, and before that the EVP of Global Manufacturing at General Motors. Alicia grew up in Detroit, and got her first job as an engineering intern at GM. Over the next 25 years she worked her way up to running a plant, then running multiple plants, then running all of quality and customer experience, and finally running all of global manufacturing. She was the first Black woman to accomplish each of these things at GM. In 2019 she joined Amazon, and was quickly promoted to the prestigious S-team, which is the exclusive inner circle of the most senior leaders at Amazon. When she was barely a year into the job, the Covid-19 pandemic hit, and over the next two years she oversaw Amazon nearly doubling its fulfillment network capacity to keep up with surging demand, while managing a team of over 800,000 people. Alicia built a reputation for successfully navigating the toughest challenges while driving unparalleled growth by bringing out the best in her teams.
From the day we started, we have always tried to build a team that is balanced between the rigor and operational excellence needed to execute in this complex industry, along with the heart and care that we saw was missing from the industry. These are not mutually exclusive attributes, but they are extremely rare to find in the same person. In Alicia, more than any other leader we've ever met at her level, we've found someone who can bring that balance that we seek. She is one of the world's top executives in operations, and is a rigorous, disciplined operator. And at the same time, she leads with real heart and care for the people that she serves and that she works with.
With Alicia coming on board as CEO, Matt and I will continue to be involved full-time, both in supporting Alicia and with our own portfolios of projects to lead. We're more committed than ever to Alto, and more excited than ever about the real opportunity we have in front of us. And we are so early in this journey that it is clear there is no shortage of work to do and problems to solve. Matt and I have never been attached to any particular role or title, and have each worn many different hats over the years. We are humble about what we are good at and what we are not, and just want to do what is best for our team in order to achieve our mission. In the short term we will focus on ramping Alicia up, and after that we will work more on what we do best: building our long term strategy, leveraging our entrepreneurial spirit to spin up new business lines, defining and evolving our culture, and sharing the Alto vision.
We are just getting started, and there is still so much opportunity to fix this broken industry, and truly help people live happier and healthier lives. We can't wait to see what we will do together in this next phase of the Alto journey.
- Jamie and Matt