How Do I Transfer a Prescription to Alto?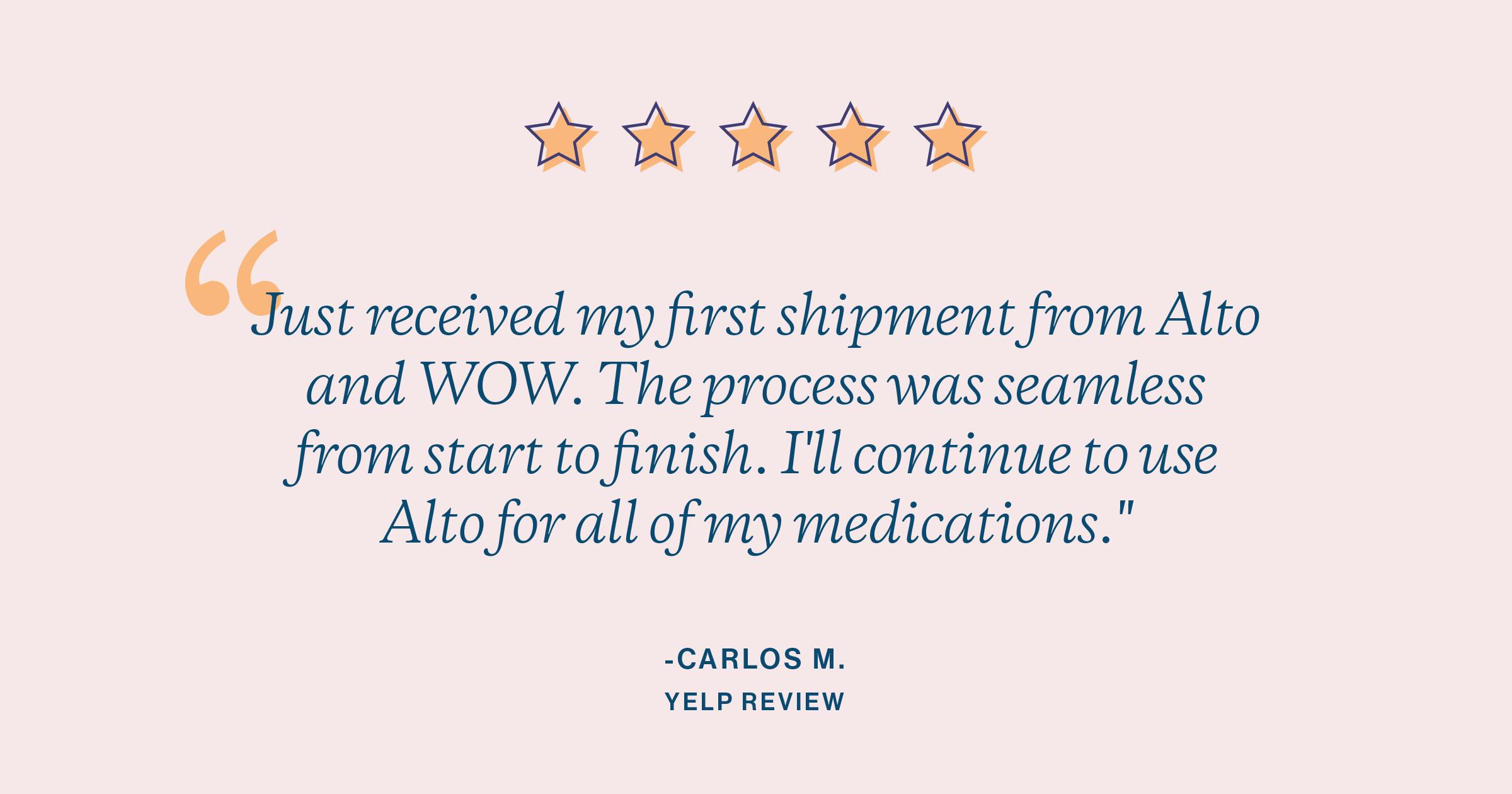 It really is possible. In just a few minutes, your days of standing in line at the pharmacy could be over for good. From now on, your refills will arrive safely at your doorstep exactly when you need them — no more wondering if they'll make it on time or if they're even on their way. And you'll have ongoing support from a team of pharmacists through secure in-app message, helping you feel comfortable discussing any health concerns freely. 
You can switch to Alto in minutes using our app, by going online at alto.com, or by calling Alto at 1 (800) 874-5881.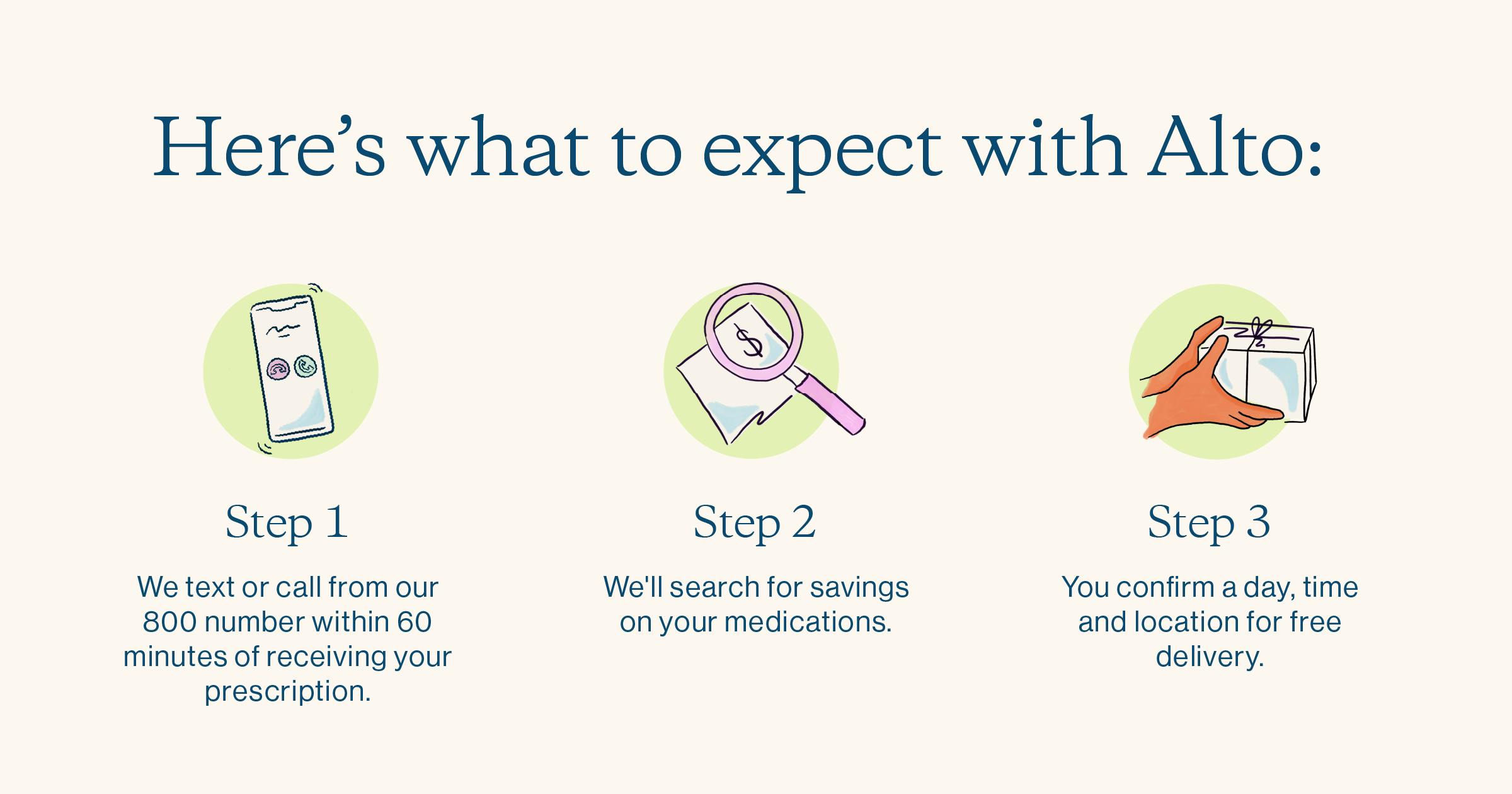 Hassle-free sign-up  
We'll contact your current pharmacy to arrange the transfer right away. It may take a few business days to receive your prescription from your old pharmacy, but we'll keep you up to date along the way. As an alternative, you can ask your doctor to send a new prescription directly to Alto.
Savings and support 
Not only are the services we provide at Alto completely free, but we'll also do our best to identify ways to save you money. It's true—your copay stays the same when you switch to Alto and there are absolutely no hidden delivery or service fees. We'll investigate coupons, copay cards, and other savings options in order to find you the best price — we've saved our patients more than $23 million on their medications! 
Delivery on your schedule
Once your transfer is complete, we'll reach out to schedule your free delivery. You select the delivery date and window that works best for you, and you can follow your courier in real-time as they make their way to your door. Your medications will be hand-delivered by a member of our local courier team. In most instances, you can designate a safe place for your medications to be left in the event you are not home or if you prefer contact-free delivery. 
And, our packaging is designed to keep your temperature-controlled medications cold (but not too cold!) from the time they are packaged at our pharmacy until they reach the door. 
Our team carefully assembles each order the same day it leaves with our local couriers. Ice packs and other insulation are included based on the specific count and weight of your refrigerated items.
"Keep Cold" and "Refrigeration Required" stickers indicate the specific medications that you should store in the refrigerator so nothing is missed when unpacking the delivery.
We've tested our packaging methods to verify that medications remain within appropriate temperatures for at least 12 hours (36 hours if sent overnight via FedEx).
We've got it all covered 
Finally, if you're wondering if we carry your medication, the answer is yes. We fill all types of medications, including specialty, over-the-counter, brand, and generic. And if you have questions about your medications, our team is available to answer your questions from 9 am – 12 midnight ET Monday – Friday, and 10 am – 9 pm ET on weekends; reach out by in-app secure messaging or phone.
If you're excited about the benefits of switching to Alto — whether it's the potential savings, free same-day delivery, or easy access to expert pharmacists — there's no reason to hesitate about transferring your or your family's prescriptions. We've designed the process to be quick and easy.
Ready to make the switch to a better pharmacy? Sign up through the Alto app or call 1-800-874-5881.