National Gay Men's HIV/AIDS Awareness Day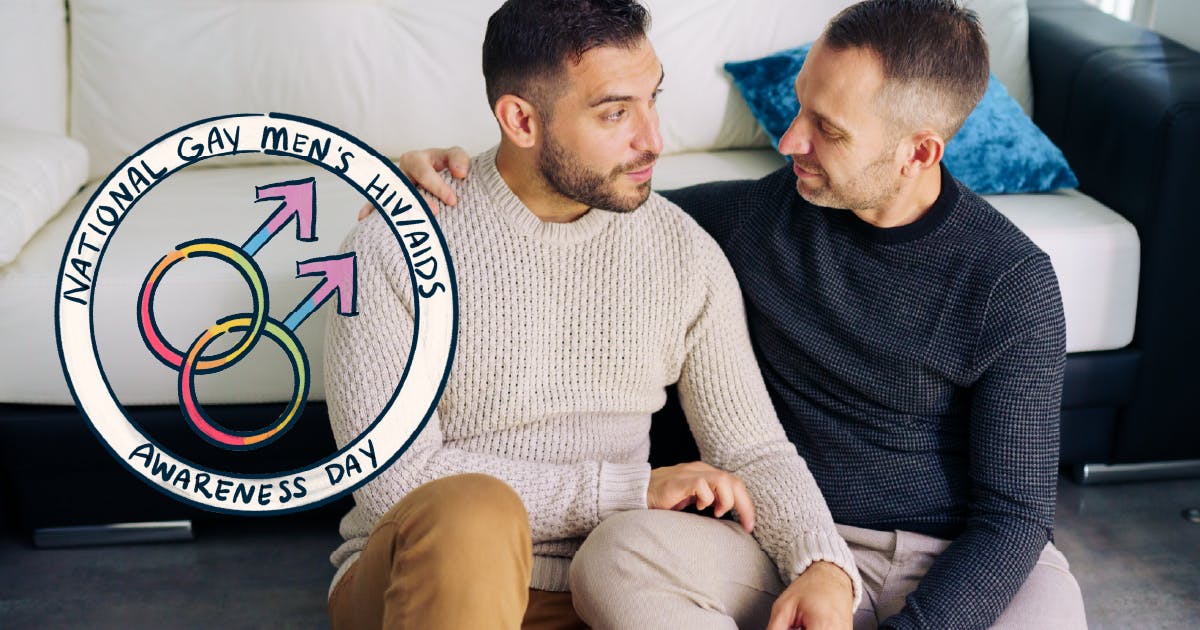 September 27 is National Gay Men's HIV/AIDS Awareness Day, an important reminder that the human immunodeficiency virus (HIV) and acquired immunodeficiency syndrome (AIDS) disproportionately affect gay and bisexual men. In 2019, these individuals accounted for 69% of new HIV diagnoses in the U.S.
The high rates of HIV and AIDS among these individuals date back to the origins of the epidemic in the 1980s and 90s, in part because the virus transmits more easily through anal sex than vaginal sex. And this deep-rooted prevalence of HIV and AIDS in LGBTQ+ communities perpetuates a cycle: since HIV and AIDS are historically more common among gay and bisexual men, other gay and bisexual men face a higher risk of contracting it.
In recent years there has been significant progress toward reducing the annual infection rate. New cases of HIV among gay and bisexual men ages 13-24 dropped by 33% between 2015-2019. But there's still much more progress to be made. Several factors contribute to HIV's continued disproportionate impact upon gay and bisexual men, including ongoing stigma around HIV — which can deter people from seeking HIV prevention services and testing — race/ethncity discrimination, and disparities in healthcare access.
The importance of HIV testing
Even as HIV cases continue to decline and more effective treatment options allow individuals with the virus to have active, full lives, it's important to stay vigilant about testing and prevention services. 
An estimated 1.2 million people in the U.S. are living with HIV, and about 13% of them aren't aware of their HIV status. According to the CDC, nearly 40% of new HIV infections are transmitted by people who do not know that they have the virus.
Getting tested is the only way to know your HIV status. It's free, it's confidential, and it's one of the most important things you can do to protect your health and the health of potential sexual partners.
Search for an HIV testing site near you.
If your test results are positive, there are effective treatment options that can keep you healthy. Antiretroviral therapy (ART) is a combination of medications that reduce the amount of HIV in your bloodstream (known as your viral load). When taken every day as prescribed, ART can help you reach an undetectable viral load. Maintaining an undetectable viral load can keep your immune system strong and prevent you from transmitting the virus to others.
It's important to start ART as soon as possible, so reach out to your healthcare provider right away if you've tested positive for HIV. Delaying treatment can put you at a greater risk for developing AIDS or transmitting the virus to others.
HIV medication for prevention
If your test results are negative, you can continue to protect your health by using condoms and taking an HIV prevention medication called PrEP if you and your doctor decide it's right for you.
PrEP, or pre-exposure prophylaxis, can lower risk of sexual transmission of HIV by 99% when taken daily and reduces the risk of getting HIV from intravenous drug use by about 74%. PrEP may be right for you if you have a partner who is HIV-positive or unsure of their HIV status, or if you have multiple partners. 
In recent years, PrEP has become even more accessible, with generic medication options and expanded health insurance coverage of PrEP. In addition, a handful of states, including California and Colorado, recently passed legislation that allows pharmacists to prescribe the HIV prevention medication.
The following resources can connect you with a provider who may prescribe PrEP:
Using PEP for emergencies and accidental exposures
There's another HIV prevention medication to be aware of: PEP, or post-exposure prophylaxis, which is taken within 72 hours of potential exposure to HIV to lower your chances of contracting the virus. 
PEP can be prescribed by a healthcare provider at emergency rooms, sexual health clinics, community-based health centers, and, in some states, pharmacies. The sooner you begin taking PEP, the more effective it is at blocking the virus, so if you have been exposed to HIV after standard working hours, visit your nearest hospital's emergency department as soon as possible.
PEP is only for emergencies and accidental exposures. If you anticipate ongoing risk of exposure to HIV, consider asking your doctor about taking PrEP for long-term protection.
HIV education and prevention resources
The HIV prevention landscape is regularly evolving, and we have an extensive library of PrEP, PEP, and HIV-focused content to help you understand and access HIV prevention medications and services. Consult with a healthcare provider to make the best decisions for your needs.
Here are just a few of the resources we offer:
Debunking Common Myths about PrEP
Getting PrEP for HIV prevention at an affordable cost
Expanded PrEP access at pharmacies: What to know
What updated CDC guidelines mean for PrEP access
What to Know About State-Funded PrEP-DAP Programs
Alto can help you navigate HIV treatment and prevention medication
Our pharmacists have deep expertise in HIV treatment and prevention and can help you get started with antiretroviral therapy, PrEP, or PEP. We will coordinate with your doctor and your insurance provider to ensure that you're receiving the best option for your needs at the best price.
To learn more, reach out any time through in-app secure messaging or by phone at 1-800-874-5881.
This content is not intended to be a substitute for professional medical advice, diagnosis, or treatment. Always seek the advice of your physician or another qualified health provider with any questions you may have regarding a medical condition.
Editor's Note: This post was originally published in September 2021 and has been updated for accuracy and completeness.