How Alto Saves You Money on Prescriptions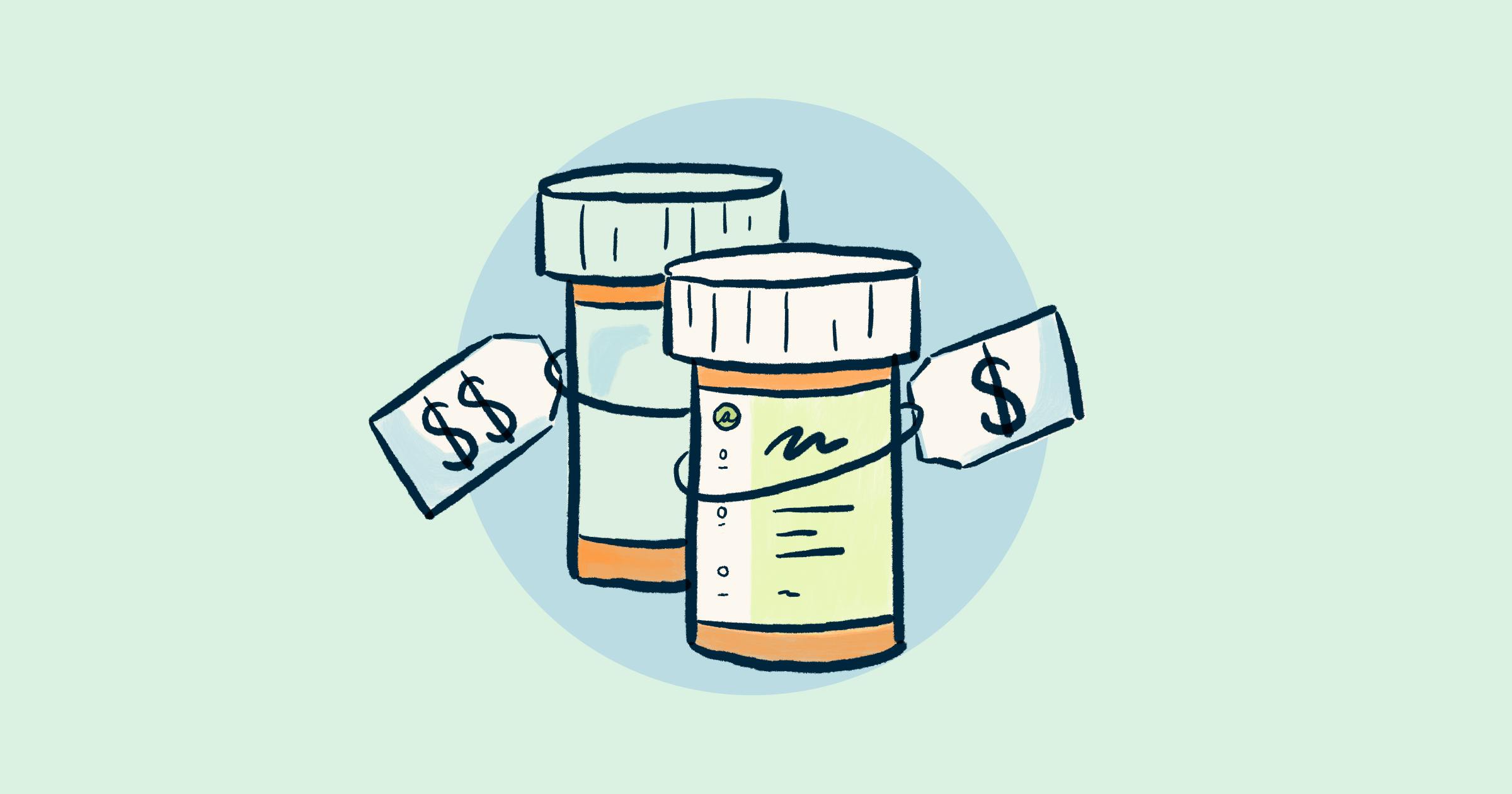 Finding the lowest price for your medications shouldn't be a hassle. Yet with countless options like rebates, manufacturer coupons, and discount saving programs, knowing where to start can be confusing. Add to that recent headlines that seem unclear and it's no wonder the search for discounts often leads to frustration. At Alto, we believe you shouldn't have to stress over how to save on your prescriptions.
In this blog post, we'll share how our team works to reduce your cost for most insurance-covered prescriptions. Keep in mind that certain treatment options, such as fertility, often require additional benefits investigation or aren't covered by traditional insurance. If your prescription isn't covered by traditional insurance we can also help with the approval process. But first, let's quickly review how pricing is set.
How Drug Pricing Works 
Your insurance plan contracts with a pharmacy benefits manager (PBM) whose job is to determine which medications should be covered or not under your insurance plan (even down to the exact dosage and brand that your doctor prescribes). This creates preferred coverage - and therefore pricing - for certain medications.
The PBM negotiates with the drug manufacturers to agree upon a specific price to charge the insurance plan for a medication, the remaining copay that you'll be responsible for covering, and the PBM's fee for administering the service.
Pharmacies purchase drugs from third party wholesalers or directly from manufacturers. If you plan to use your pharmacy benefits to pay for your medications, your out-of-pocket price is determined by the PBM+insurance plan. If you're not using insurance, the pharmacy will provide a cash price.
Some drug manufacturers will also offer coupons, copay cards or financial assistance programs to help patients afford particularly expensive or new-to-the-market medications. 
Confused? Don't worry. That's why we're here to help. 
Need more details? Read Breaking open the black box of medication pricing
The Alto Difference 
We believe medication pricing should be transparent and that you shouldn't have to investigate savings options on your own. The infographic below compares Alto's cost saving measures to traditional retail pharmacies and how this impacts your overall cost.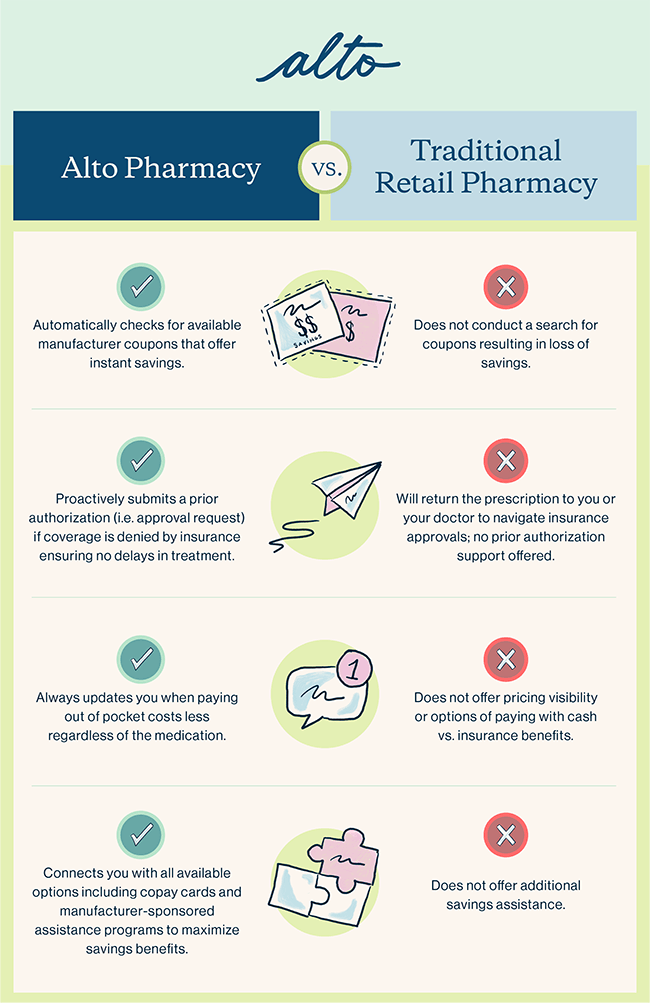 What This Means for You
Every prescription sent to Alto is matched against our database of coupons, copay cards, and other savings options (like manufacturer-sponsored assistance programs). We automatically apply any savings we find so that you can trust you're always getting the best price. If paying out of pocket will be the cheapest option, we'll be sure to let you know.
Medications still too expensive? Let us know and we'll work with your doctor to identify alternative medication options, if available. Our price investigation services are completely free.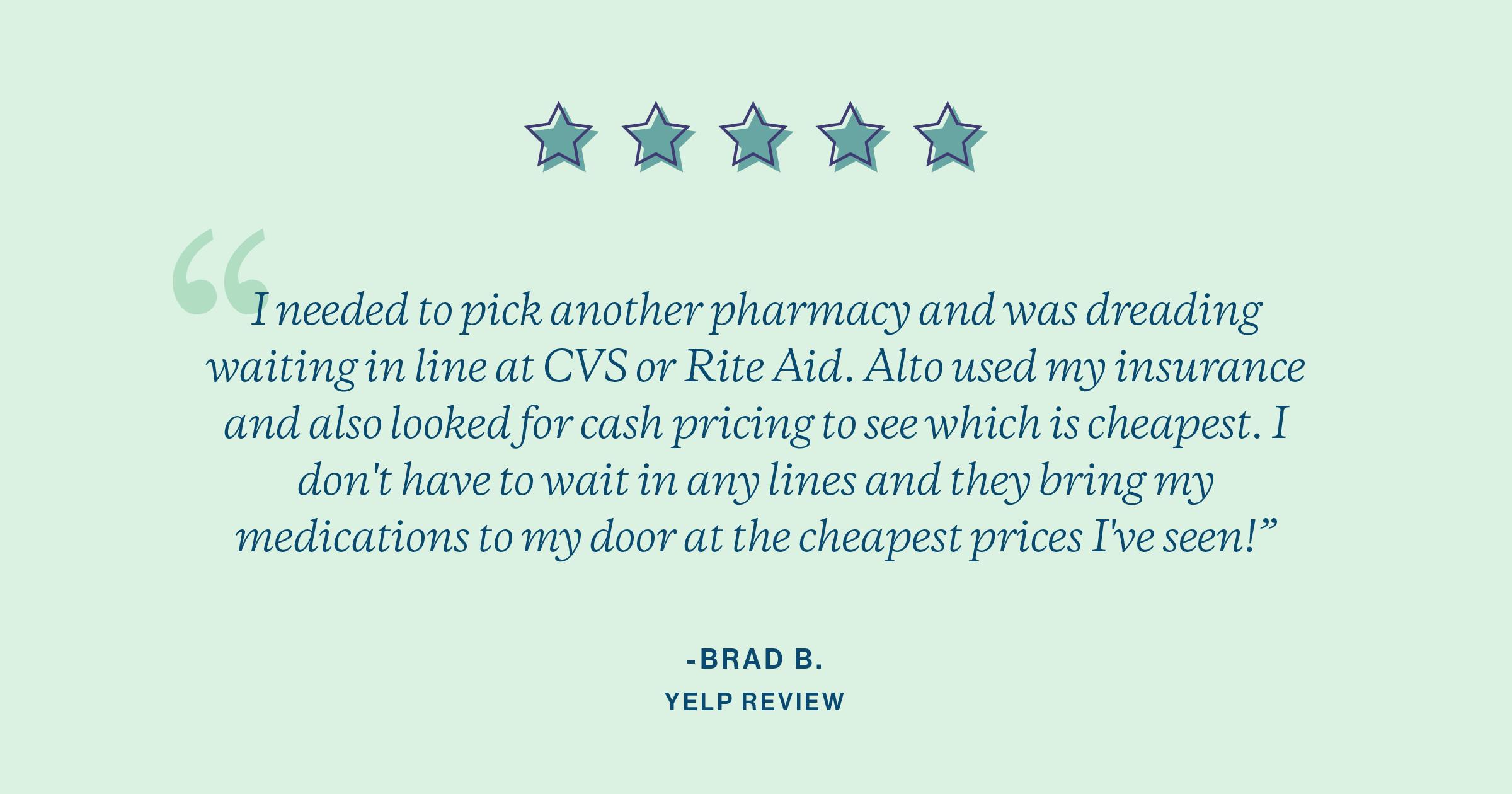 A good pharmacy should never leave you to do the pricing legwork on your own. If you're in the process of finding the right partner for your prescriptions, make sure cost savings assistance is part of the deal. Your financial wellness matters too.
"As a veteran pharmacist, I've never witnessed other pharmacies apply the same cost saving services that Alto does automatically," shares Luisa Nazareno, Patient Care Pharmacist. "Our team understands that price can be a limiting factor in fulfilling prescriptions so we work tirelessly until we can provide our patients the most affordable option. It's really rewarding to know that we're helping patients save money and stay on track with their treatment plan." 
Questions about Alto or pricing on your medications? Our team is available to answer your questions from 9 am – 12 midnight ET Monday – Friday, and 10 am – 9 pm ET on weekends; reach out by in-app secure messaging or phone.