Pulmonary Fibrosis Awareness Month: Understanding the Lung Disease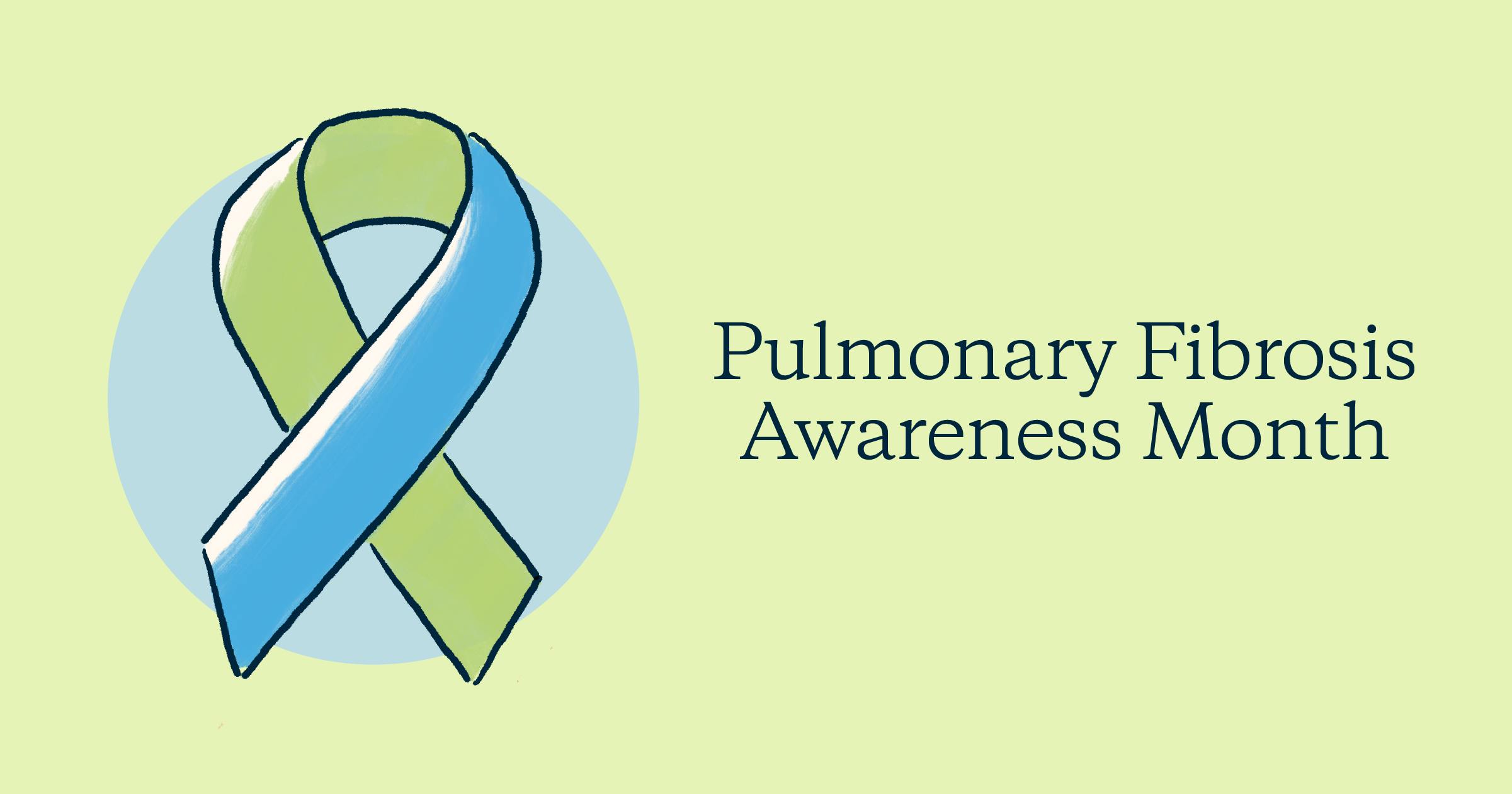 September is Pulmonary Fibrosis Awareness Month, an annual month of education and action to bring attention to chronic lung disease. A 2020 survey conducted by the Pulmonary Fibrosis Foundation found that 86% of Americans did not know the symptoms of pulmonary fibrosis, which affects more than 130,000 people in the United States. 
This lack of awareness may stem from the fact that pulmonary fibrosis presents with symptoms similar to more common respiratory conditions like COPD, as well as the fact that pulmonary fibrosis is a group of many lung diseases.
Greater education around this progressive lung disease is critical: the more you know how to recognize the signs of pulmonary fibrosis, the more likely you are to receive a diagnosis at an earlier stage, should you be affected. Better understanding of pulmonary fibrosis starts by simply knowing the facts, so, take a few minutes to learn more.
Pulmonary fibrosis by the numbers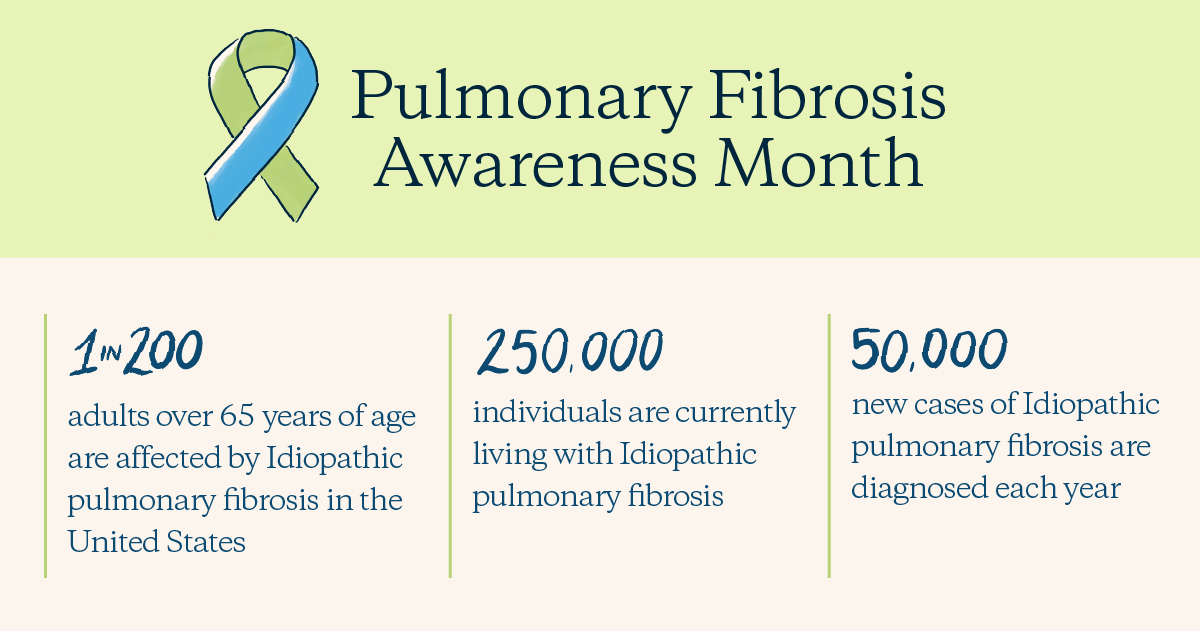 What is pulmonary fibrosis?
There are more than 200 types of pulmonary fibrosis. In each type, the lungs become scarred, making it difficult to breathe. Unlike COPD and some other lung diseases, pulmonary fibrosis falls under the umbrella of interstitial lung disease. Pulmonary fibrosis damages interstitial lung tissues, which are the cells that fill the space between blood vessels and other structures inside the lungs like the trachea and bronchial tubes.
Another way that pulmonary fibrosis differs from COPD is that it has a wider range of causes beyond cigarette smoking alone. Long-term exposure to pollutants and toxins, certain medical conditions and medications, and radiation therapy can also play a role in causing pulmonary fibrosis.
The most common type of pulmonary fibrosis is idiopathic pulmonary fibrosis (IPF), which literally means pulmonary fibrosis of an unknown cause. While doctors are unable to isolate a single cause of the condition in these cases, the following risk factors may increase your chance of developing IPF:
Smoking
Age
A family history of pulmonary fibrosis
A diagnosis of a condition that often co-occurs with pulmonary fibrosis (also referred to as a comorbidity) such as acid reflux, sleep apnea, or pulmonary hypertension
While researchers continue to work toward a cure, a combination of medications, oxygen therapy, and active lifestyle choices can slow the progression of pulmonary fibrosis. Getting diagnosed at an early stage is key to a better prognosis.
Pulmonary fibrosis symptoms
These are the most common symptoms of pulmonary fibrosis:
Shortness of breath
Dry, hacking cough
Fatigue and weakness
Discomfort in the chest
Since many of these symptoms overlap with those of COPD and other lung diseases, additional tests, including blood and imaging tests and pulmonary function tests, are often needed to confirm a pulmonary fibrosis diagnosis. Your doctor may also take into account the presence of the known risk factors mentioned above when determining if you have pulmonary fibrosis, including any related health conditions.
Seeking support for pulmonary fibrosis
A long-term lung disease like pulmonary fibrosis may affect you both physically and emotionally, and it's important to surround yourself with support. In addition to having a strong care team, there are many opportunities to connect with other individuals living with the condition, who understand your experience better than anyone.
The Pulmonary Fibrosis Foundation offers both virtual and in-person support groups. The PFF also has a phone group for all members of the pulmonary fibrosis community called PFF Voices, where you can discuss any pulmonary fibrosis-related topic or concern. The group meets on the third Thursday of every month.
The American Lung Association's Better Breathers Club has a variety of resources for individuals living with lung diseases, including virtual meetings. The ALA also supports free online communities on Inspire.com that offer peer-to-peer support for people living with lung diseases, and there is a group specifically focused on living with pulmonary fibrosis. You need to create an Inspire.com account to access the group.
If you are caring for someone with pulmonary fibrosis, there are also resources to help you navigate your loved one's treatment needs.
Read the Pulmonary Fibrosis Foundation's suggestions for caregivers.
The PFF also offers a phone group created specifically for caregivers called PFF Caring Conversations, where you can share your experiences as a caregiver. The group meets on the first Tuesday of every month.
The American Lung Association supports an Inspire.com group for pulmonary fibrosis caregivers called Caring for Pulmonary Fibrosis. You need to create an Inspire.com account to access the group.
Alto is here for you, too. We want to make it as easy as possible to follow the treatment your doctor has recommended, so we offer free hand-delivery of your medication, automatic savings investigations, and easy medication management tools through our website and app. And our team of pharmacists is always here to answer your questions.
Reach out any time by phone at 1-800-874-5881 or in-app messaging.
This content is not intended to be a substitute for professional medical advice, diagnosis, or treatment. Always seek the advice of your physician or another qualified health provider with any questions you may have regarding a medical condition.