Unboxing Your Alto Diabetes Delivery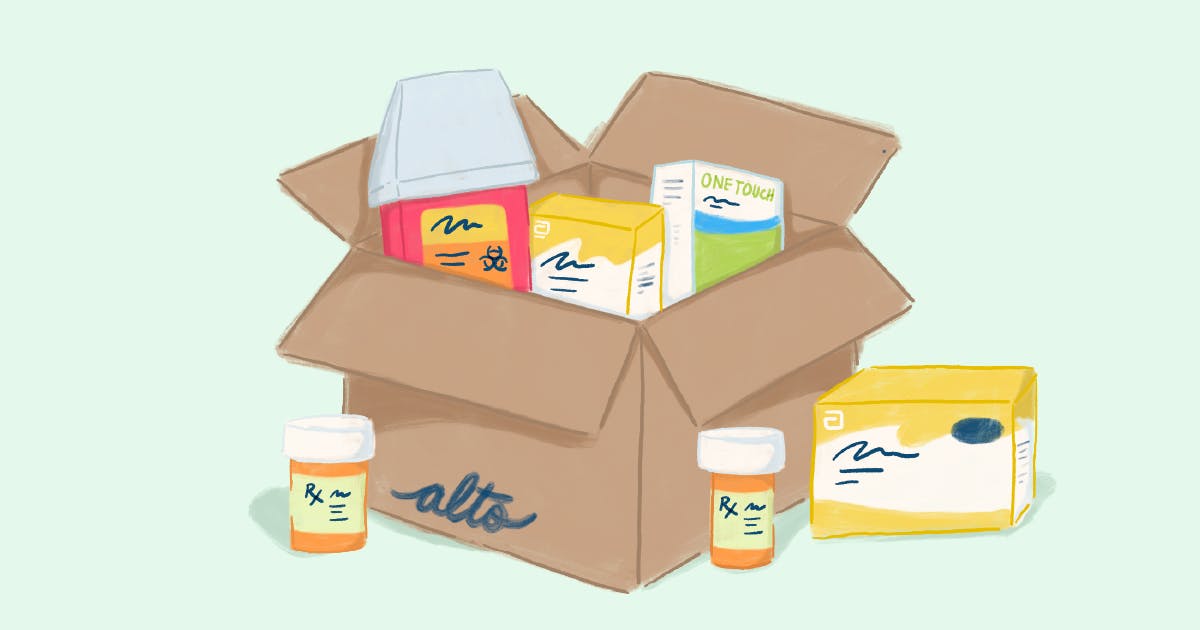 At Alto, we strive to reduce the stress that comes with managing your diabetes however we can. As a pharmacy for all of your diabetes needs, we're able to sync all of your medications and supplies into a single delivery every month. In fact, you might even be a little surprised by just how much is included in a diabetes delivery, so we put together a short overview of what's inside the box.
Unboxing your delivery
We recommend unpacking your full package upon delivery and making sure you have everything you need. Carefully check insulated wrappers or ice packs to make sure you don't miss any medications or supplies, and promptly place any items marked "Refrigeration Needed" in your refrigerator.
A quick note on refrigeration: we understand how important it is that your medications and supplies arrive in good condition, and we use temperature controlled packaging to ensure that insulin is held at the right temperature while it's on the way to you.
What's in the box?
Depending on what your care team has prescribed, you'll probably have many or all of the following in your Alto delivery:
Diabetes medications in the form of vials, pens, pills, tablets, or inhalation devices
Insulin pumps (small electronic devices that deliver doses of insulin at specific times - common brands include Omnipod®)
Blood glucose meters, test strips, and lancets (common brands include Accu-Chek® and OneTouch®)
Smart insulin pens (a method of insulin delivery that combines insulin and syringe into a single device - common brands include InPenTM)
Insulin pen needles
Continuous glucose meters (CGMs) (a small electronic device that automatically collects glucose readings at regular intervals throughout the day - common brands include Dexcom® and Freestyle Libre®)
A sharps container for disposal
Supplies like needles or syringes will be packaged in their own bag with a label that explains their purpose.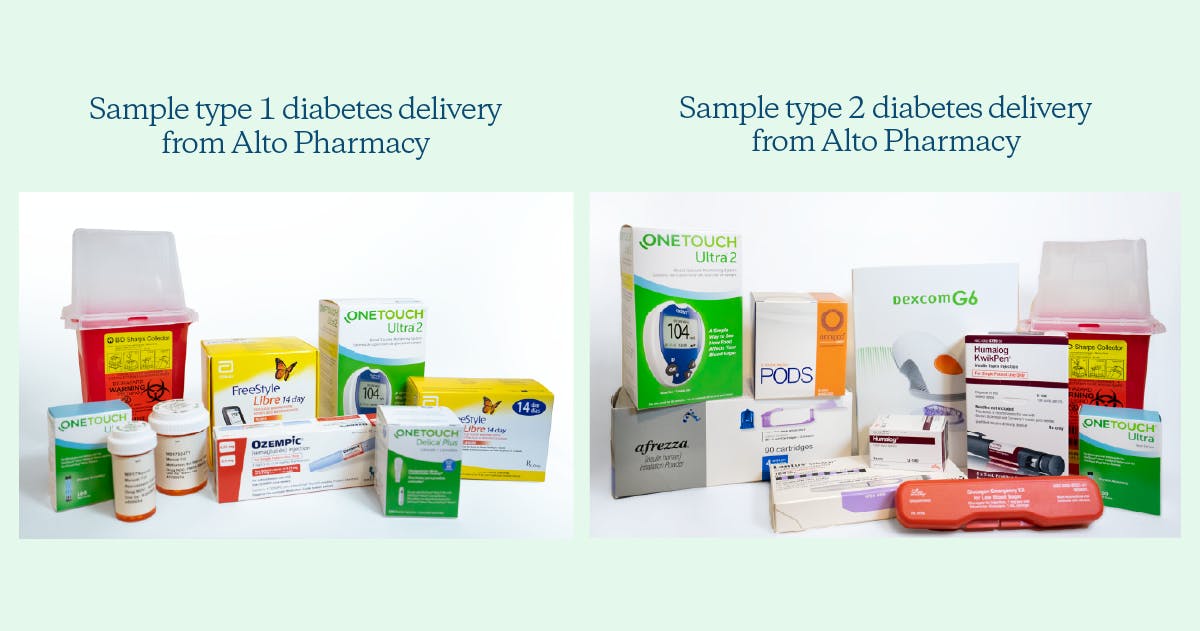 Note: the specific medications and supplies you have for your injections and diabetes care may look different than what is displayed in these photos. If your physician has instructed you to use a specific device, supply or medication, always follow their instructions.
Practicing safe sharps disposal
It's important to practice safe disposal methods for your needles and other injection or testing supplies. 
Use your red sharps container to safely store your needles after use. Sharps should never be thrown loosely into the trash, in the toilet, or in the recycling bin. Sharps that retract after use or are very small should follow the same disposal method as all other sharps.
Alto does not accept returns of sharps containers - you can find a safe local disposal site here.
If you need a new sharps container, send us a message in the app, and we'll add it to your next delivery.
A partner in your diabetes care
We're a one stop shop for all your diabetes management needs. In addition to auto refills and med syncing, we offer free, same-day delivery and automatic savings investigations. And our team of pharmacists is always here to answer your questions by phone or the Alto app.
Reach out any time through in-app secure messaging or by phone at 1-800-874-5881 to learn how Alto can be a partner in your diabetes care.
This content is not intended to be a substitute for professional medical advice, diagnosis, or treatment. Always seek the advice of your physician or another qualified health provider with any questions you may have regarding a medical condition.
All third party trademarks (including logos and icons) referenced by Alto Pharmacy remain the property of their respective owners. Unless specifically identified as such, Alto's use of third party trademarks does not indicate any relationship, sponsorship or endorsement between Alto and the owners of these trademarks.