Unboxing Your Fertility Medications from Alto Pharmacy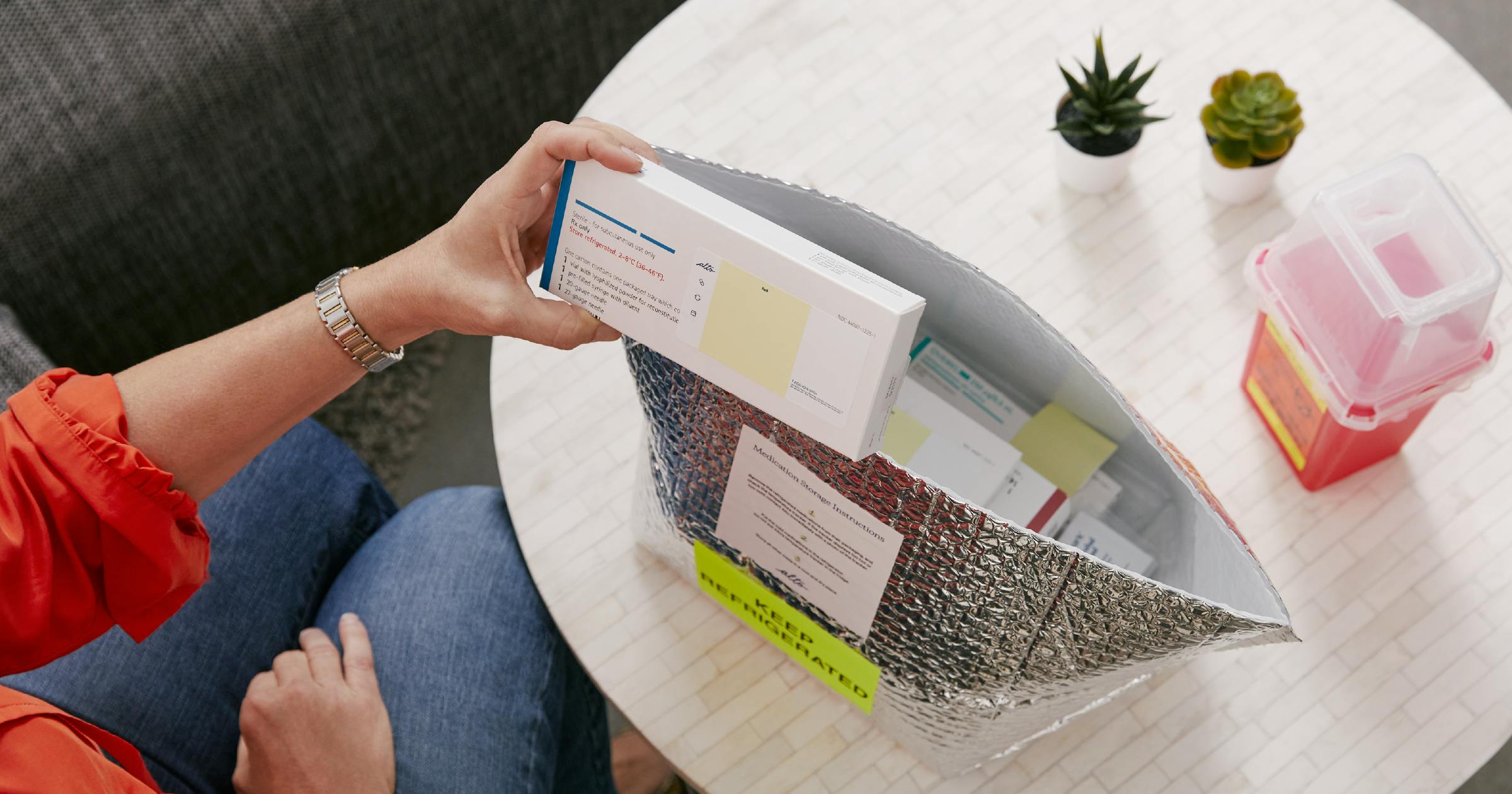 While the arrival of your medications is definitely a big milestone on the road to IVF or egg freezing, it can also be a little overwhelming. Many people are surprised to find just how much is packed inside the box — not only the fertility medications themselves, but all the ancillary supplies along with them. On top of that, many fertility medications have to be refrigerated or prepared a certain way, so it's important to have a pharmacy partner that considers these additional factors during packaging.
At Alto, we're committed to removing stress from the fertility journey wherever we can, including the delivery and unboxing of your fertility medications. Customers often tell us how grateful they were for our clear labeling and packaging during fertility treatment. Here's a quick overview of what you can expect when unboxing your fertility medications from Alto Pharmacy.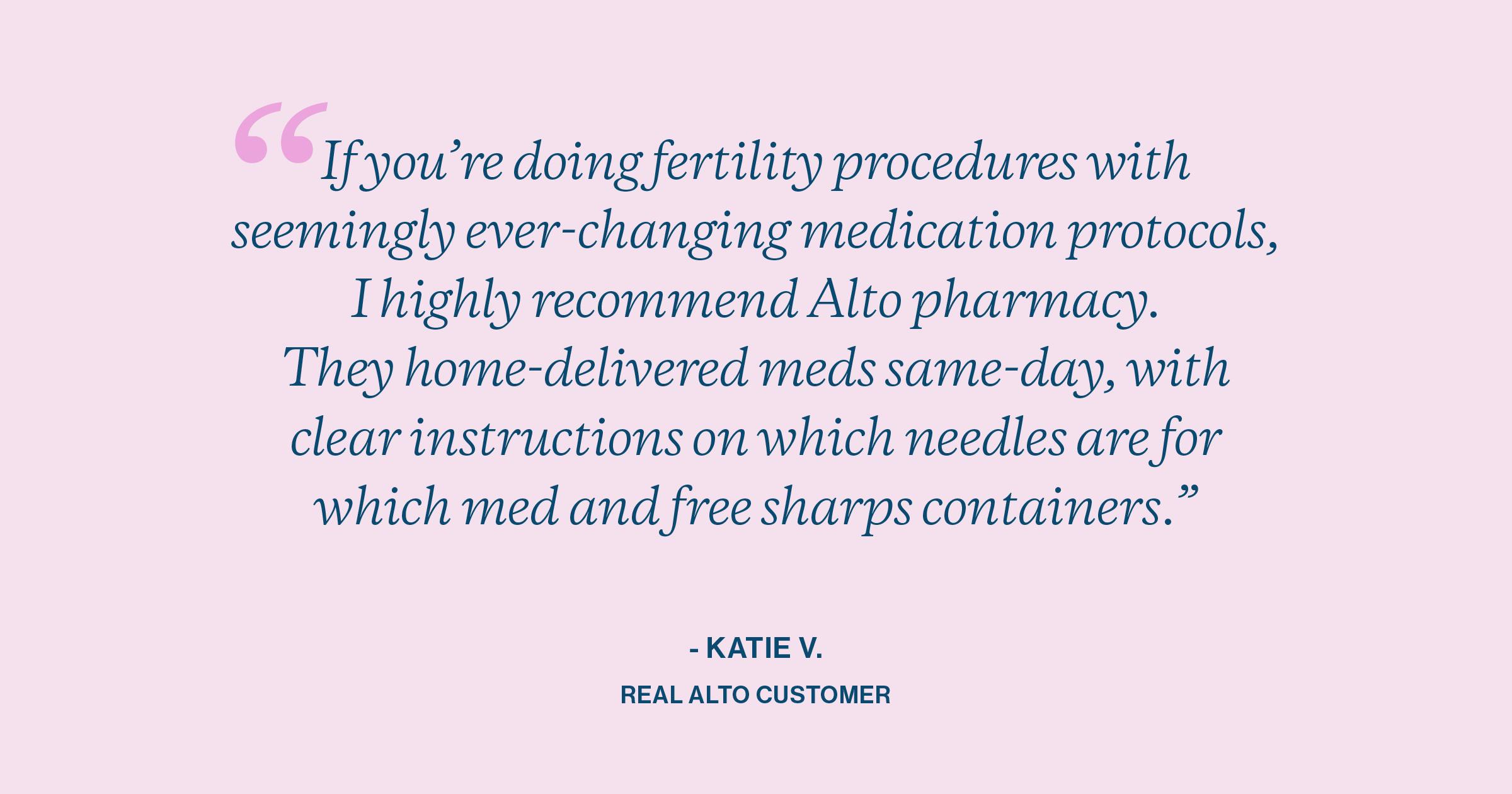 Separate packaging of ancillary supplies
You'll receive all the ancillary supplies needed for medication administration, including a mixing needle, an injection needle, and a syringe. We send a few backup needles, too, so there's no need to panic if you happen to misplace one, as well as a starter supply of alcohol swabs. Each ancillary is packaged in its own bag and labeled with a sticker that explains its purpose and accompanying medication.
"Swirl mix!, Don't shake" stickers
Some medications require you to mix a powder and liquid solution prior to administration. It's important to swirl the medication, since shaking will cause the mixed medication to foam, which may make it unusable. All of these medications are clearly labeled with a "swirl mix!, don't shake" sticker as a reminder.
Temperature control
Refrigeration is essential with many fertility medications. We ensure that medications are held at the right temperature while in transit and give you the information you need to keep them properly stored at home.
In courier packages, refrigerated medications are packed inside of insulated mailers or box liners, with stamps or stickers on the outside letting you know to store the contents somewhere cold. And if your package includes both refrigerated and non-refrigerated medications, we package them separately so that each medication is stored under the proper conditions.
For customers who live outside of our courier zones, we offer overnight delivery of fertility medications through a third party shipping service. We use styrofoam containers and ice packs for these deliveries to hold medications at the right temperature until you get them.
Easy tracking and discreet packaging
You'll never have to wonder where your medications are: once your delivery is scheduled, you can see where your courier is and get text updates on their ETA. We also offer discreet packaging to ensure privacy if you need medication sent to the office, or if it arrives at home when you're out.
Choose a reliable pharmacy partner for fertility treatment
As an Alto customer, you'll never have to worry about whether medications will arrive on time, in the right condition — and you'll never be alone in navigating fertility treatment.
Learn how we can support your fertility journey here or reach out at any time via phone at 1-800-874-5881 or in-app messaging.
This content is not intended to be a substitute for professional medical advice, diagnosis, or treatment. Always seek the advice of your physician or another qualified health provider with any questions you may have regarding a medical condition.