What to Consider When Selecting a Fertility Pharmacy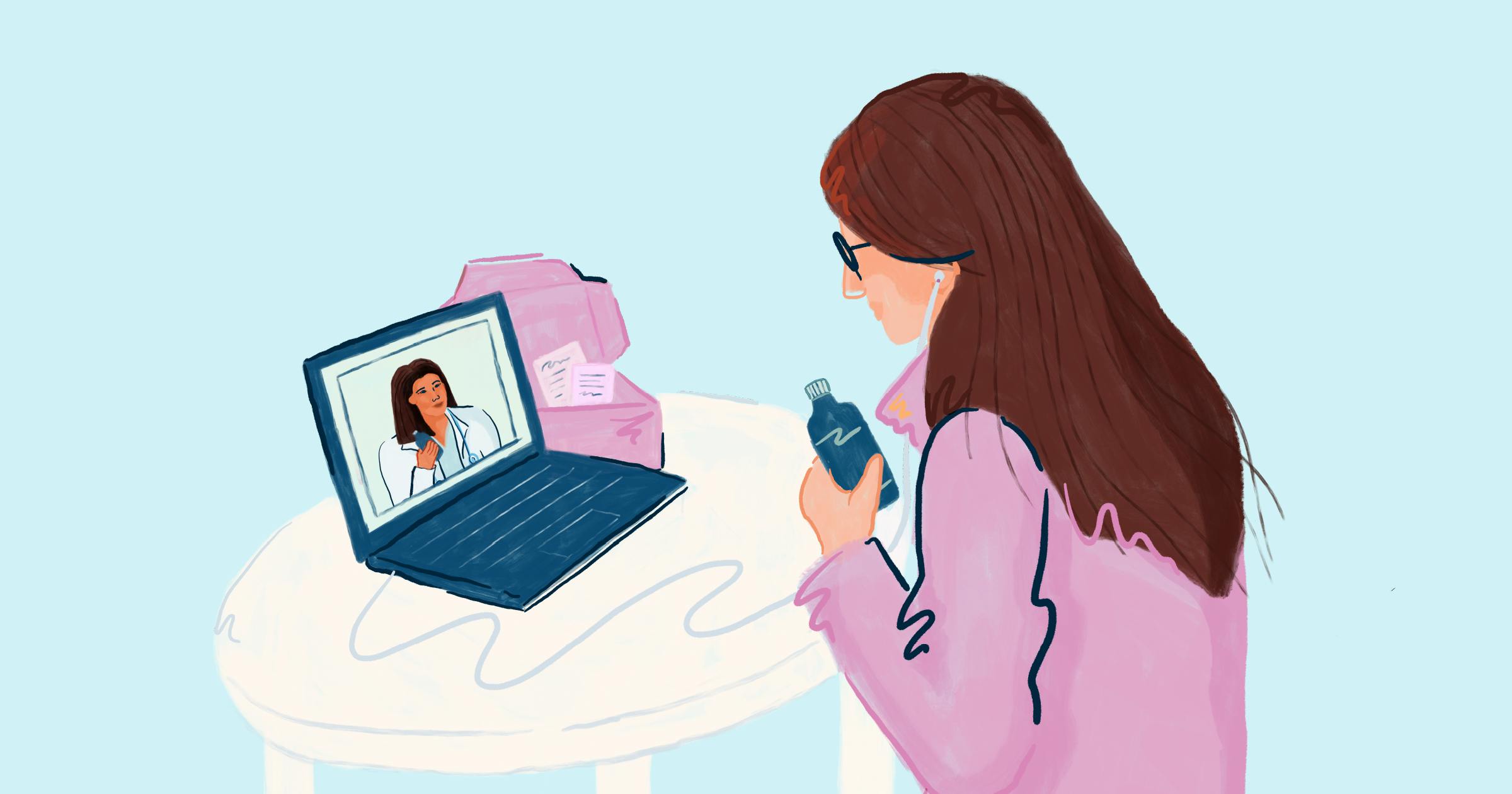 Your Choice of Fertility Pharmacy Matters
Chances are if you're reading this you've made a decision to undergo fertility treatment or know someone who might be soon. To begin with, know that you are not alone. Approximately 1 in 8 women in the US are affected by infertility, and more than 20,000 women have now decided to have their eggs frozen. 
Since 2016, Alto has supported over 50,000 patients through their fertility journey, and several team members have gone through the journey themselves. We know this can be an emotionally, financially, and physically challenging experience. That's why we believe choosing the right pharmacy can help you avoid additional stress caused by waiting for hours on hold, tracking down your medication delivery, and navigating insurance benefits.
Think of your pharmacy as an extension of the care you receive from your physician. You wouldn't choose just any fertility clinic, right? The same goes for where you choose to receive your fertility medications. Fertility treatment is stressful enough. Your pharmacy partner should provide the reassurance and reliability you deserve.  
In this post we'll share guidance on how to select the right fertility pharmacy. First, we'll explain why it's important to use a pharmacy with a strong fertility focus (versus any neighborhood or mail-order pharmacy). And since not all fertility pharmacies are the same, we'll also offer five considerations to make sure you have the smoothest experience possible. Finally, we'll share the benefits of selecting Alto as your fertility pharmacy. 
The Basics 
At a minimum, credible and experienced fertility pharmacies will employ:
An expert clinical team: This includes pharmacists who are knowledgeable on and experienced with the medications and dosing unique to fertility treatments.
Temperature controlled packaging: Medications can go bad if they are not shipped or stored at the proper temperature. Fertility pharmacies will provide the appropriate packaging to ensure your medications arrive in good condition. This is especially important in warm climates. 
Proper supplies: Fertility pharmacies will be familiar with the variety of needles/syringes that you may need for your injection. This is crucial because it can be stressful if incorrect supplies are included which may lead to a missed dose. In addition, supplies such as alcohol swabs and disposal containers should always be included.
Learn more: [The View From Both Sides of the Fertility Pharmacy Experience]
How to Choose a Fertility Pharmacy 
Here are five additional things you should consider when selecting a pharmacy partner: 
1) Easy, proactive communication - After your clinic sends your prescription to the pharmacy you'll likely have questions related to insurance, what to expect when receiving your medications, and most importantly, when they will be ready. For that reason it's important to take into account what types of communication are offered - phone, text, email, mobile app - and typical response times and operating hours. Pharmacies with weekend/evening support hours are most beneficial in ensuring you'll get live support when you actually need help.
2) Affordability assistance - Fertility benefits are confusing and it can be hard to understand just how much you'll need to spend on medications. Most fertility pharmacies will work with leading financing and loan providers and can administer manufacturer discount programs if asked. A great fertility pharmacy will go above and beyond to connect you with financial assistance programs for qualifying prescriptions.
3) Local, timely delivery - Your medication protocol can change even after you start your injections - perhaps your physician wants to add a different trigger shot to prevent over-stimulation or decides to add days to your schedule because of the rate at which your follicles are growing. You can avoid these stressful situations if you select a pharmacy that is local and can promise fast same-day delivery. The last thing you need to worry about is mail-order delays or waiting in line at a pharmacy for hours. 
4) Pharmacist support - You'll most likely have questions about your fertility medications (i.e. How do I know I'm injecting correctly? My clinic just changed my medications, what do I do?) so think of your fertility pharmacist like an extension of your #TTC community in that they should be an advocate on your side. Make sure the pharmacy you choose offers support and expert resources like guidance on injections, tools for managing your protocol and help understanding medication options - including late at night and on the weekends!
5) Community reviews - Just like you researched clinic and physician reviews, you should do the same with your pharmacy choice. Head to Yelp, Facebook, and any other feedback platform that showcases patient testimonials. Pharmacy experience matters but so does the experience of others. See if any reviews or blogs exist that mention specific fertility pharmacies. You'll thank yourself (and those before you) for taking the time to do your due diligence.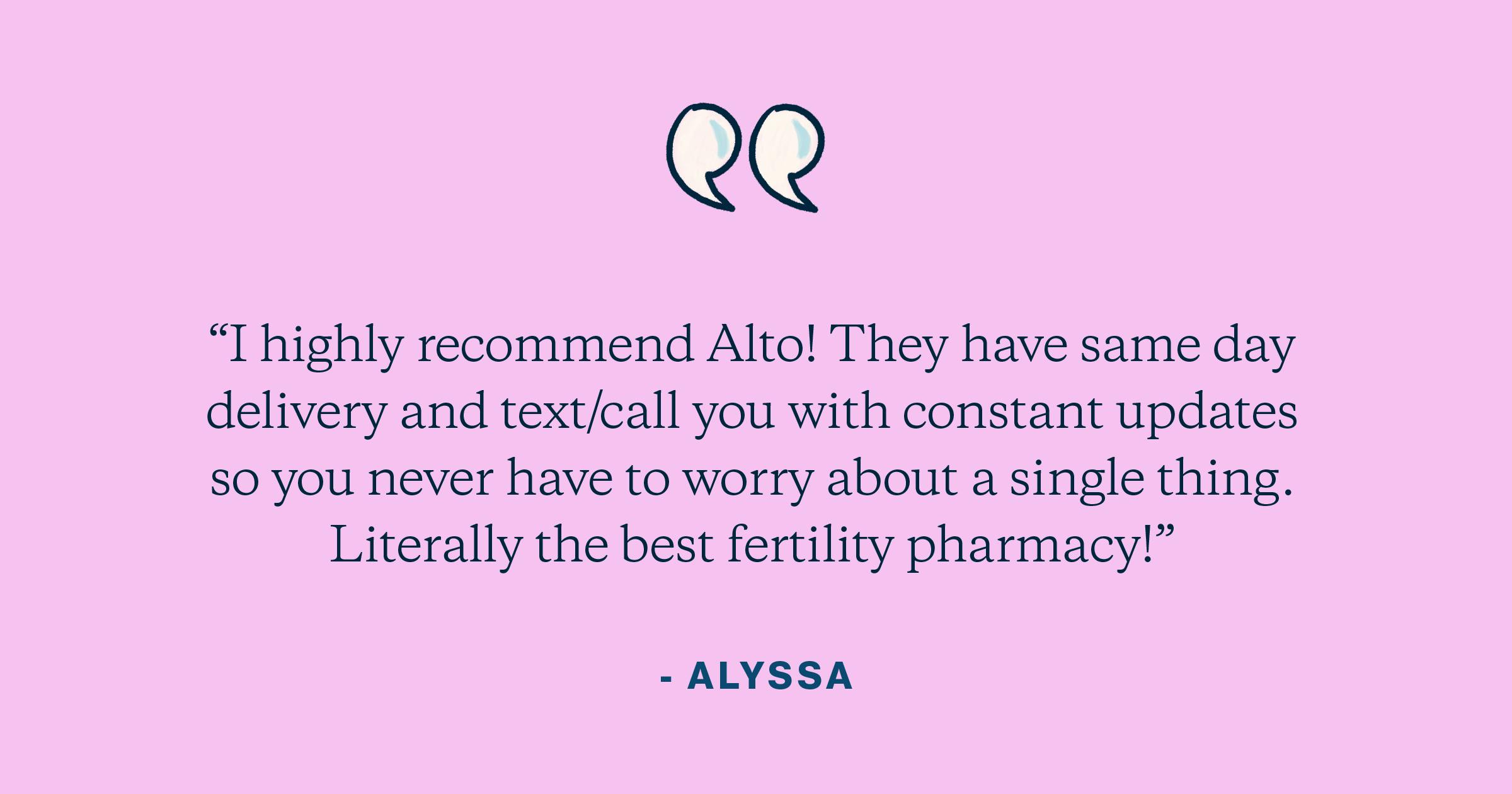 What to Expect With Alto 
Once Your Prescription is Received 
The fertility team at Alto will reach out as soon as we get your prescription so you don't have to worry about waiting on hold or standing in line at a pharmacy. We'll proactively investigate your insurance coverage, provide options to maximize your benefits and offer qualifying rebate programs. 
And because we know you're busy with life, we offer a mobile app that allows you to securely schedule your delivery or message a pharmacist if you aren't able to call us. You can take care of your pharmacy needs wherever you are and on your schedule. Alto pharmacists are always available until 9 pm each night (including weekends) to answer questions. 
Delivery of Your Medications 
When it comes to the time sensitive nature of your treatment, being locally-based makes a critical difference. Medications may be increased, decreased, or stopped altogether. At Alto, patients always receive free, same-day delivery by our own Alto courier team, even on weekends. 
We also offer the ability to select the 2 to 3-hour delivery window that works best for you either at home or work. Once your delivery is scheduled you'll receive text updates along the way so you know exactly when your courier will arrive.
After You Receive Your Medications
Your medications are packaged to give you the necessary information to avoid common mistakes (e.g.which meds go into the fridge). And Alto's dedicated fertility pharmacists are always just a phone call or text away to answer your questions about injections, supplies, and more. So if you're about to inject and suddenly forget something, you don't need to wake up your physician - you can give us a call or view one of our injection guides!
We'll also follow up with you to remind you about qualifying rebates and provide instructions on how to apply. Our patients find this especially helpful given they have enough to remember. 
The team at Alto is ready to be your partner through it all, from your first cycle to your last. Questions about using Alto? Visit alto.com/fertility or give us a call at 1-800-874-5881. Our team is available 9 am - 9 pm PT Monday - Friday and 10 am - 6 pm PT on weekends.